This week I was trained as fill station operator so that I can fill scuba cylinders.  It is very important to be properly trained to handle high-pressure cylinders because of the hazards associated with them.  A damaged cylinder, or improper filling techniques can cause a cylinder to explode, a serious danger to the person filling the cylinder and to anyone in the vicinity.  The training included a PSI/PCI PowerPoint and quiz, as well as an orientation to the compressor room and fill station.  We learned about cylinder markings, different types of cylinders and compressors, how to conduct a cursory inspection, and cylinder maintenance.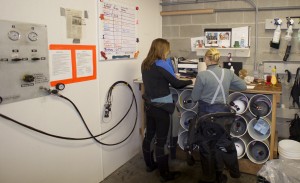 After completing the classroom portion of the training, we headed to the fill station and each went through all the steps involved with filling a cylinder, including visually checking the cylinder for proper markings, making sure it is up to date on inspections, and actually filling the cylinder. I became even more familiar with the components of high-pressure cylinders by helping Vallorie, my supervisor, service a cylinder that was due for its annual inspection.  I learned how to take the cylinder valve apart, go through the required checklist for annual inspections, replace the O-rings and burst disk, and put everything back together again.
After a full day of learning about cylinders, I was ready to kick back and relax.  I attended Rogue Brewery's 'science on tap', an event in which local scientists come out to talk to the public about their projects.
This month the focus was on citizen science.  By bridging the gap between the general public and the scientific community with projects such as REEF and marine debris monitoring projects, we are able to gather information that could be critical to coastal habitat sustainability and conservation.  The idea is that success of conservation projects will come through integration rather than implementation.  This is especially true in towns such as Newport, where the fishing/marine industry drives the economy.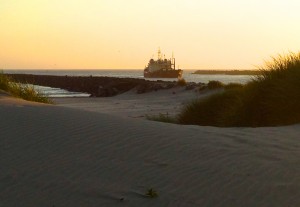 With much of the public already holding close ties to coastal ecosystems, citizen science projects will further engage fishermen and the general public in the health of coastal ecosystems, further increasing the success of conservation efforts. As the presentation wound down, the floor was opened up for questions, and I was extremely impressed by the level of interest expressed by members of the community.  Thoughtful questions and suggestions continued for about 40 minutes, proving just how engaged the community is.  As I sat there listening to the lively discussion, I couldn't help but think how unique of a situation it was.  Not every community has members that are this active and willing to get involved.  Newport seems to be the perfect place for citizen science projects to blossom, and I have no doubt that this is exactly what will happen.