Hey everyone,
My name is Teresa Tymon and I was selected to be the 2013 OWUSS/AAUS scientific diving intern.  I just graduated from the University of South Carolina as a marine science major and will start graduate school at San Diego State University this fall.  My main interest is in marine biomedicine, as marine organisms hold great potential for developing life saving drugs.  I am also interested in promoting marine conservation through informing the public of the immense medical potential of the oceans' inhabitants.
I arrived in Oregon just over a week ago and already have met so many incredible people.  From the moment I arrived, Oregon has proven itself to be welcoming and captivatingly beautiful.  I flew from my hometown, Lancaster, Pennsylvania, to Portland, Oregon.  I needed to get from Portland to Newport, so Vallorie Hodges, the Dive Safety Officer (DSO) at the Oregon Coast Aquarium, sent an email to all the volunteer divers at the Aquarium asking for help.  Within a few hours, multiple people opened up their homes and offered me a ride.  I stayed with one of the volunteer divers the night I arrived and the next morning we made the beautiful drive down the coast to Newport.
When I arrived I met Jenna Walker, the assistant DSO here at the Aquarium, whom I have been in contact with since I found out I was chosen for the internship.  I spent my first few days at the Aquarium getting acquainted with the staff, exhibits and my new dive gear.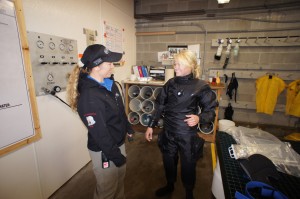 It was immediately evident that the Oregon Coast Aquarium is unique.  There is a major focus on education and conservation, which is implemented through platforms such as interpretive dives and the Guest Dive Program.  My first dive was in Halibut Flats, one of the largest exhibits at the Aquarium.  It was my first time diving in a dry suit, so using the suit to control my buoyancy instead of the BC took a bit of getting used to, but I think I am well on my way to becoming a skilled cold water diver!
A few days later, I again descended through the chilly, 51 degree water in Halibut Flats.  This time it wasn't just to practice my dive skills, but to be part of an underwater wedding proposal.  It was incredible to be part of something so important and special in someone else's life.
The day of the proposal, I also had the opportunity to dive in the Open Sea exhibit, which holds California bat rays (Myliobatis californica) as well as five species of sharks- soupfin (Galeorhinus zyopterus), brown smooth-hound (Mustelus henlei), spiny dogfish (Squalas suckleyi), leopard (Triakis semifasciata), and broadnose sevengill (Notorynchus cepedianus). I eagerly awaited my chance to dive with these incredible creatures and the experience did not disappoint.  The immense power that sharks holds is strikingly juxtaposed by the grace with which they glide through the water.  I look forward to spending more time in the water with them, and to all the incredible experiences I am sure to have this summer.