Now that we are through with camps for the summer, my remaining weeks will be spent either at the office or at a lionfish derby. The lionfish derbies are part of REEF's Invasive Lionfish Program. They consist of dive teams, freediving or scuba diving, which collect lionfish by spearfishing or netting. There are prizes for the most, the biggest, and the smallest lionfish.
Lionfish first started appearing on the Florida coastline in 1985 due to aquarium releases. Since then, they have spread to most of the Caribbean directly competing with native fishes. The last derby in Ft. Lauderdale brought in 506 lionfish from 7 teams! Our derbies are a great community event that help educate people on the detrimental effects of releasing a non-native species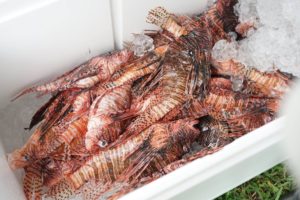 Our remaining derbies for the summer are in Palm Beach and Jacksonville. Aside from taking lionfish out of the water, the other objective of these derbies is to demonstrate how tasty lionfish are. We serve free lionfish ceviche at the derbies and have a culinary competition by participating chefs. If we can increase the demand for lionfish by patrons at restaurants and grocery stores, then removal efforts by divers will become more cost effective.
Two weekends ago my regular days were interrupted by a welcomed guest, Shannon Brown the OWUSS NPS intern! We managed to connect while she was here in South Florida at Biscayne National Park. She and other members of the NPS team took me out to the Maritime Heritage Trail to significant and very old ship wrecks. I did what I do best and conducted a fish survey on these wrecks. Because I am not AAUS certified, I could only snorkel these areas, but I was able to see plenty!
Shannon and her co-worker, Joel, changed my perspective on Marine Archeology. While I was busy being distracted by the biology of the area, they were marvelling at the stories the structure of the ship could tell. With their help, I was able to appreciate what I was seeing a little bit more and understand their excitement for maritime history. Shannon tried on my hat and conducted a fish survey herself which she was very proficient at! The entire NPS team was extremely welcoming to me and it was a great reminder of what a privilege it is to be apart of the Our World Underwater network.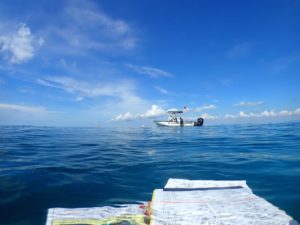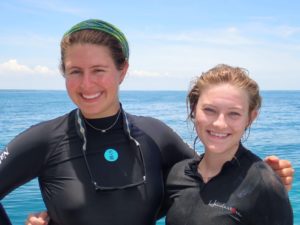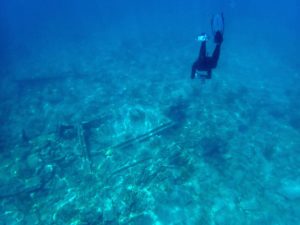 Thanks again to Shannon for the pictures and to Dave Conlin for the warm welcome!