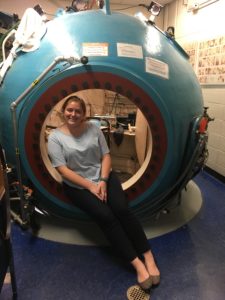 Last week was one memorable week here at DAN! I nicknamed it "field-trip" week since most of the week was spent going to different places and experiencing new things. The three places we visited were SAS, Luxfer Gas Cylinders and the Center for Hyperbaric Medicine and Environmental Physiology (also known as the Duke hyperbaric chambers).
SAS is a data-analysis company to which customers can submit data for SAS to identify trends they need to monitor. Different types of companies, both local and international, utilize their services, including the city of Durham, Lufthansa Airline and even the transportation departments in North Carolina. The campus where the company is housed is humongous, as big as a college campus! They also have a broad range of services for employees, from gyms to health clinics they can visit.
The next field trip was to Luxfer Gas Cylinders in Graham, North Carolina. Here, we did two things: took a class and a toured the cylinder-manufacturing facility. The class was the Professional Scuba Inspectors (PSI) visual cylinder inspection. Our amazing teacher was Mark Gresham, president of PSI. The group went over so much important content, but there were plenty of interesting stories and hands-on examples that helped break up the course and enhance our understanding of what he was teaching us. During the tour, we went from beginning to end to see how the cylinders were manufactured, packaged and shipped. They start off as small aluminum blocks, and with some squishing and painting, they turn into cylinders. I am now certified as a visual cylinder inspector, which, in the words of Mark, "puts another feather in my hat."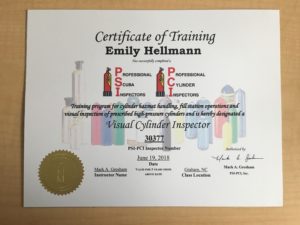 The last field trip we went on was probably my favorite and the most anticipated: the Duke Chambers. I had heard about how massive and impressive the chambers are, and seeing them in person was surreal. There are seven chambers in total, and they are all attached to each other in some way. We were able to go into most of the chambers, but one chamber had patients going through treatment, so we observed from outside. I had always thought chambers were just used for divers, so it was interesting to see non-divers with non-diving-related problems being treated in the chambers. The staff also shared the story about how and why the chamber was built. Its original purpose was for open-heart surgery, but by the time the chamber was finished, the heart-lung machine had been developed, making the chamber's original purpose obsolete. As of today, there are 14 indications for hyperbaric treatment, so it was not built for nothing after all.
This week was full of new experiences, and I cannot wait to see where the rest of my time here takes me!