As my internship wraps up, things have been very busy here at REEF. It is crazy how fast this summer flew by but I am happy to say my time with organization is not over, as I have accepted a position as the next Education and Outreach Fellow. By the time you are reading this blog, I will have made an over 3,000 mile drive across the country back to the Keys to start this new role and will be helping prep for the annual Florida Keys Lionfish Derby & Festival!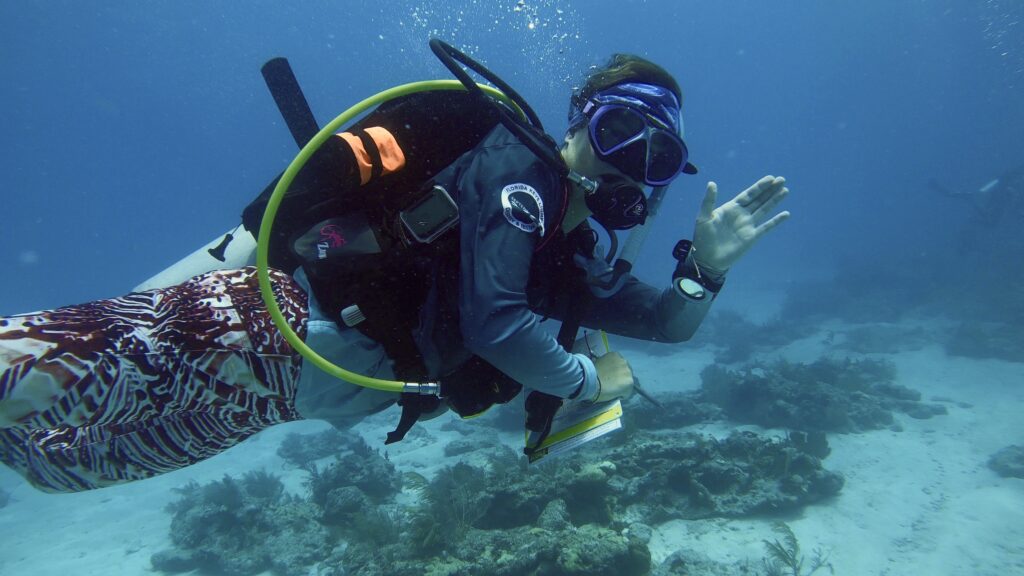 Through my undergraduate honors thesis, I did extensive research on the marketing strategies for lionfish and the opportunities for different local communities to benefit from lionfish removal, which led to me learning about the lionfish jewelry business, started by women in Belize. At REEF I had the opportunity not only to make my own jewelry, but to lead a workshop for the community teaching them about how the lionfish invasions began, why these species are dangerous for reef ecosystems, and to make their own unique jewelry. Along with REEF programs and classes, each intern is given the time and freedom to work on our own personal project (or for most interns projects) and this workshop was one of mine! It was great to see how excited each of the attendees was when their piece was complete, knowing that they had created something that was sustainable, personal, and educational! In addition to this project, I have been working on a presentation to show college students how to access and use our database for their thesis work, have been working on my fish ID skills and advanced to a Level 3 surveyor in the Tropical Western Atlantic Region, and have been helping collect images of Atlantic Goliath Groupers (Epinephelus itajara) for the Grouper Spotter citizen science project.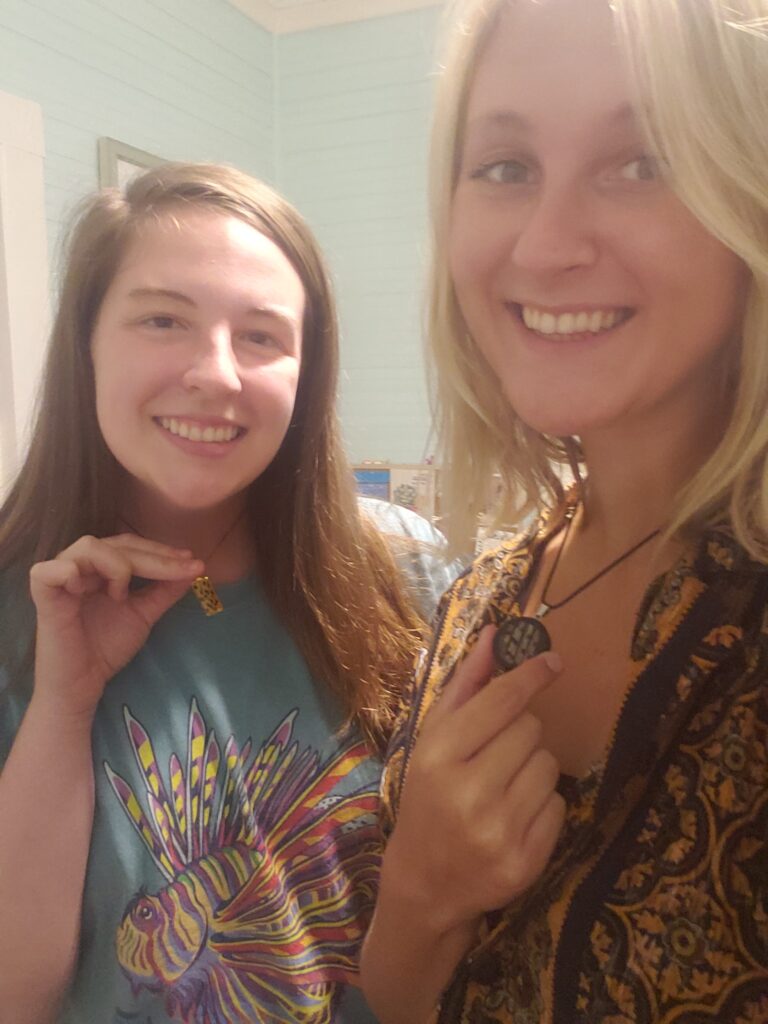 My friends and coworkers at REEF, Katie and Alexis, showing off their new jewelry from my workshop!
Of all of the students I got to work with this summer, my favorite was those from Camp Open S.E.A.S. This group is an annual summer camp for adaptive divers who traveled from all over the country to dive in Key Largo and volunteer with many of the marine conservation non-profits in the Upper Keys. As part of our Volunteer Fish Survey Project, I got to teach the students about the characteristics and behaviors of the most common and interesting fish we would see. After that we were each paired with one of the adaptive students that we got to lead on a fish survey dive. Seeing how happy my buddy Eli was when he finally got in the water and we started pointing out fish we had learned in the classroom was one of the highlights of my internship.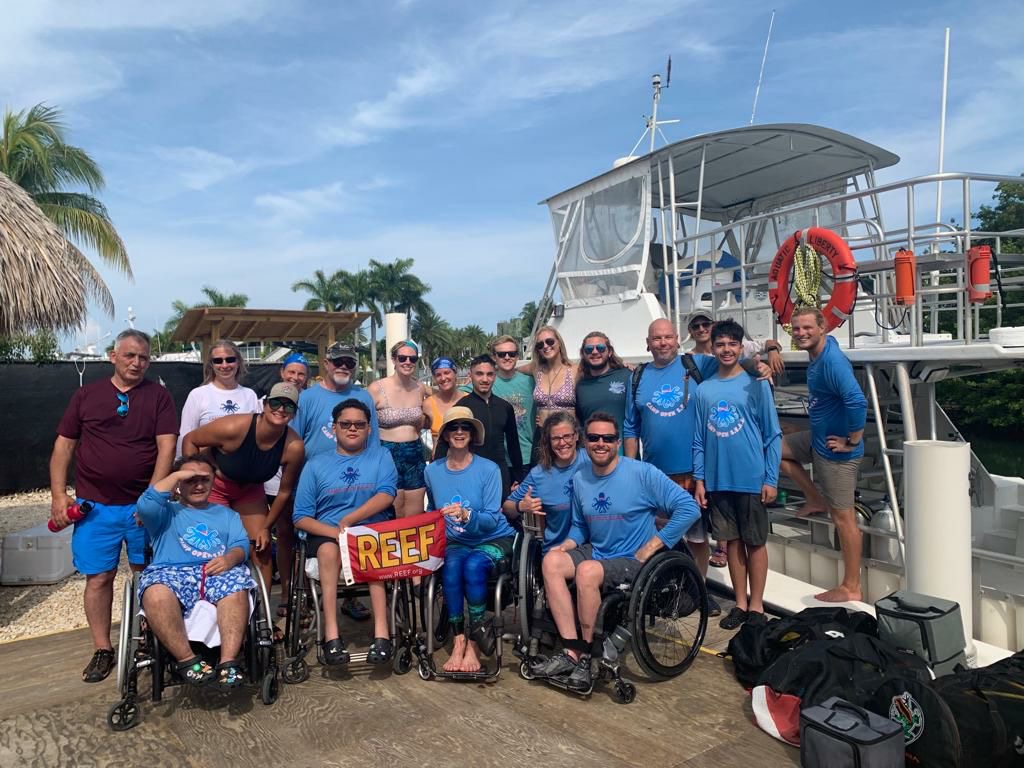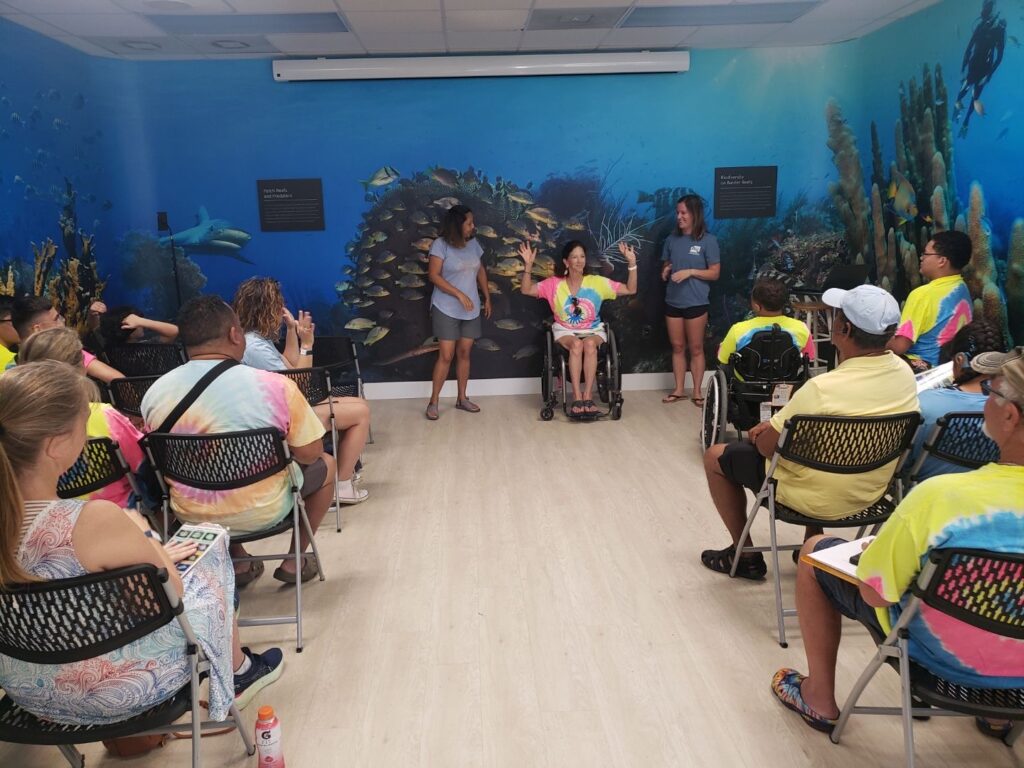 Our awesome team with the students and leaders from Camp Open S.E.A.S. Camp leader Rosemary taught everyone basic sign language so we could communicate with the deaf students before I taught them hand signals for the fish we would see during our dives.
Over my summer with REEF I have learned so much about the non-profit and marine conservation fields and have discovered my love for educating others about the ocean. I have had the chance to explore much of the Upper Keys and Miami areas both in and out of the water, and am excited to continue doing so over the next year. I am so grateful for all of my coworkers at REEF and for the support of everyone at OWUSS for making this possible.