Living in Key Largo, I find myself occasionally singing "Bermuda, Bahamas, Come on Pretty Mama. Key Largo, Montego, Baby why Don't We Go". And while I already live in paradise, it is hard not to dream of those other beautiful Caribbean Islands. So I could barely contain my excitement when I got a call from my boss, Lad Akins, asking if I wanted to join him at the 5th Annual Green Turtle Cay Lionfish Derby in Abaco, Bahamas. For those of you who don't know, the Green Turtle Cay Lionfish Derby was the first ever lionfish derby, which began 5 years ago.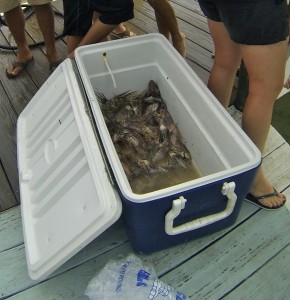 I immediately jumped at the chance to be apart of the derby, but the next 24 hours would be a crazy rollercoaster ride. I guess I should mention that I got this call on Friday and the derby was Saturday; kind of short notice. I had to find just the right flight to get there in time, and when I found it, I was ecstatic. And then came the bad news…. I didn't bring my passport to Florida. It was sitting at home in Illinois, locked away in a safe. For the next hour I had pretty much given up hope, but then I had an idea. I called my mom, and after a bit of research we located a UPS store that was within 5 minutes of the Miami airport. She quickly sent my passport, which would hopefully make it from Illinois to Miami in less than 24 hours.
So I packed my bags and the next morning headed north to Miami. After a very nervous 45-minute wait in the UPS parking lot, the package finally arrived! One plane, one taxi, and one ferry was all it took to get me to Green Turtle Cay about one hour before all of the lionfish would come in; just in time for the craziest part of the day. I grabbed a scoring sheet, joined Stephanie Green, and we measured each lionfish that came in. In total: 1,204 LIONFISH! This year's derby was very successful, and was a great way to prepare for other derbies we would have later in the summer.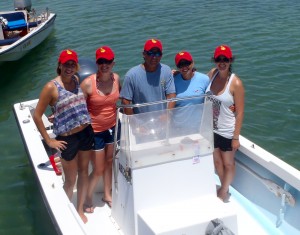 However the real work came after the derby. Over the next 3 days myself, along with 4 others (Lad, REEF intern Catie, previous intern Elizabeth, and Stephanie), would go out and survey about 75 sites. As part of REEF's research a series of sites are surveyed before and after the derby, in order to measure the benefits a derby can have. At each site, 90 meters of transect is laid out, and then one person swims up and down each side of transect looking for lionfish, lobster, and grouper. The relative sizes, habitat, and activity of each are noted.  Some sights previously had 10 or more lionfish, but after the derby were clear of them. However, we also visited a few sights that were not hit during the derby, and what I saw confirmed everything I had learned about lionfish. One small artificial structure was home to about 30 lionfish! The only good thing about that site was target practice. We grabbed a few pole spears and after a few tries I was able to spear my first lionfish!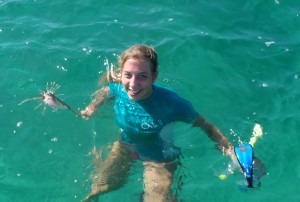 The long days of snorkeling yielded a few scrapes and bruises from strong surges, a few awesome marine life sightings including my first flying gurnard, and some pretty funky sunburns. The obnoxious tan lines around our ankles from our dive boots gave way to the new name of our boat: The Booty Tan.  My trip to the Bahamas turned out to be one of the greatest experiences of my life. It not only confirmed my love of research and fieldwork, but also allowed me to see first hand the difference REEF makes. Every lionfish removed counts and seeing the difference after removing 1,204 was incredible.