REEF keeps myself and the other interns pretty busy with office work, diving, lionfish derbies, and fish identification presentations. But on top of all that, this summer we have been preparing for REEF Fest. REEF Fest is a weekend full of diving, free educational seminars, and nightly social events in celebration of REEF"S 20th Anniversary! The volunteer fish survey project, REEF's first and main project, was started in 1993. What started as small groups of people doing fish surveys has now led to the world's largest marine sightings database. REEF offers free membership, and this membership allows divers and snorkelers to enter their surveys into a database, which has been referenced in many publications. The surveys are a way of monitoring fish populations over time, which is very important currently as we are facing climate change, pollution, and of course, in the Caribbean, the invasive lionfish. Currently, there are over 170,000 surveys entered in the database!
So 20 years of success is definitely worth celebrating! The REEF board and founders would be not only attending REEF Fest, but also leading dives and seminars for other guests. It was an absolute privilege to meet Paul Humann and Ned and Anna DeLoach, who are not only the founders of REEF, but also the authors of Reef Fish and Coral Identification Books. I assure you, if you have ever taken a marine ecology or identification class, these are the textbooks you used! REEF Fest also attracted divers from across the country, including REEF members from the very beginning, and new members who have just started to get their feet wet.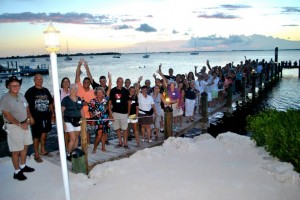 REEF Fest guests at Bayside Grille on Thursday Evening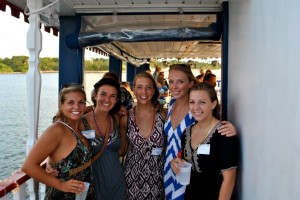 Enjoying the sunset on the Island Time Dinner Cruise 
The weekend kicked off on a Thursday afternoon with Caribbean fish identification seminars led by Jonathan Lavan and Janna Nichols. Unfortunately the first dive of the weekend had to be cancelled due to weather, but the party continued at a local bayside restaurant. Friday was filled with more seminars and diving, despite the rough weather.  That evening we hosted a party at the REEF headquarters, and we were absolutely thrilled to have over 200 guests attend! The next day I was set to lead an Artificial Reef dive with Lad Akins on the Spiegel Grove. The wind was blowing strong and we were facing 6 to 7 foot seas, but we were still joined by 16 determined REEF members. It was the roughest weather I had experienced all summer, so the boat ride was not easy. However, one quickly forgets the weather and overcomes nausea once underwater on a 510 ft. wreck! The visibility was not the best, but I was able to see some amazing fish including one of my favorites, the goliath grouper!
The final celebration of the weekend was held that evening on a dinner cruise boat called "Island Time". About 120 REEF members boarded the "Island Time" and cruised through the bay at sunset enjoying good music, great food, and the best company. There was even a conch blowing competition and a limbo contest. I am proud to say I was the limbo champion that night.
The night ended with a speech from Ned DeLoach and recognition of 16 REEF members, who have submitted over 1,000 fish surveys, an astonishing achievement. REEF Fest was one of the most enjoyable weekends I have had in Key Largo, and I hope that I don't have to wait 10 years for the next celebration. It was a pleasure to be a part of such an exciting time at REEF and an even greater pleasure to know that I helped make it happen!