Excitement was in the air. All the news channels were focused on the same upcoming event; "The Great American Eclipse!" This Eclipse was a special event because it spanned across the contiguous United States, with totality passing over 14 states. The eclipse started in Oregon and ended in Charleston, South Carolina. We were planning on heading back to Gray's Reef on Monday, however, due to technical difficulties we were on unable to go out. Our plan was to film underwater while the eclipse was happening since there is very little research on the effects on animals during an eclipse. We wanted to see if our observations were consistent with the previous studies on animal's behavior.
Since we were unable to do this, after a quick nap I spent the day in the office. I worked on my presentation for the AAUS symposium that I would be attending in September (More details to follow on this adventure!). The whole office kept up to date on the eclipse through the NASA online media.
The eclipse ended up following the same path as the beginning of my summer. About an hour before the eclipse was supposed to pass over Savannah with 97% totality, the clouds began rolling in. At about a half hour prior to the eclipse, it began raining.
Thankfully, it slowed to a very minimal sprinkle right as totality was passing over Savannah. The clouds cleared the slightest bit and we were able to see the light at the end of the tunnel! We were able to see the moon crossing paths with the sun, however we did not experience darkness. We believe this is due to the clouds reflecting back the light.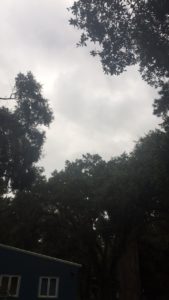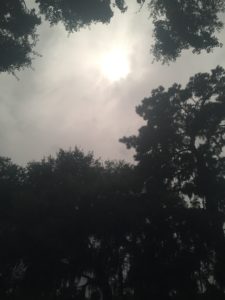 The rest of my week was spent in the office due to boat malfunctions. I attended the weekly staff meeting as well as updated the diving effort excel spreadsheet. I worked on my Presentation on both Tuesday and Wednesday to finish it up for the conference!
On Wednesday, I created a shopping list for a new Divemaster kit for the R/V Sam Gray. The Divemaster kit contains an array of different scuba and dive gear that could potentially end a dive if it breaks or is forgotten. Each boat has their own Divemaster kit and it is part of the essential equipment that has to be taken on the boat each time. In addition this week, I was able to finish assembling the R/V Joe Ferguson First Aid kit since we were waiting on supplies that needed to be ordered. I have learned that each of these little pieces, that although tedious, are essential to dive operations. It is especially important to think ahead at Gray's Reef since it is such a long boat ride to the sanctuary!
For the remainder of the week, my time was split between many different tasks. I learned about AIS vessel tracking as well as began using this tool. AIS vessel tracking helps Gray's Reef know when a boat enters/exits the sanctuary and when a boat enters/exits the closed (science only) section of the sanctuary. AIS vessel tracking also gives details about the boat such as where they left from, the type of boat, where they are headed, etc. This data is useful to help understand how the public is using the sanctuary in addition to any potential red flags that the sanctuary is not being used properly.
I was also able to organize the receiver data and photos that we had collected from last week. Kim, Marybeth, and myself met to review the receiver data and ensure that everybody understood and was on the same page. It is helpful to meet and ask any questions about data collected when it is fresh in your mind. This way notes can be taken for future reference. We were also able to assess which array needed the most immediate attention and rank them accordingly. Once the receivers are back in the office, Kim has been working on downloading the data and contacting each scientist. The hydrophone picks up signals of animals that have been tagged and are within range of the array. Therefore, each scientist that has a tagged animal that has been recorded needs to be able to have access to this data. In addition, I also continued my work with GIS. Marybeth and I have been working on learning how to add xy coordinates onto a map of Gray's Reef. We seem to be really close, but have not been able to figure out the final steps!
I have been very fortunate this summer to have so many familiar faces pass through Savannah, Georgia. This weekend once again my friends Taron and Charis came and we spent the day in downtown Savannah.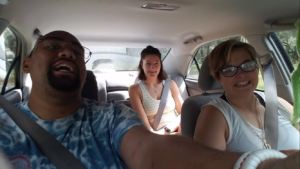 We were able to walk through all the little shops as well as tour Juliette Gordon Low, the founder of the Girl Scouts of America's, house. We got to walk through the house where Juliette grew up and learn about the history of Girl Scouts. One of the most interesting and entertaining facts that I learned was that Juliette was deaf by the time she started the Girl Scouts. In order to stop people from telling her "no," she would tell people what she was going to do and then turn and walk away because she would not be able to hear them object!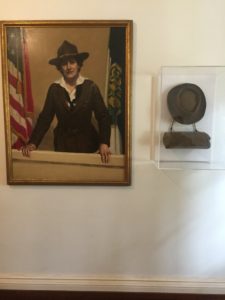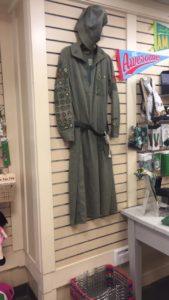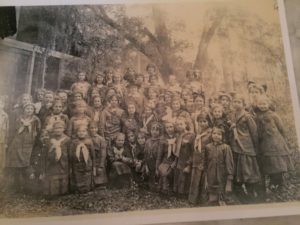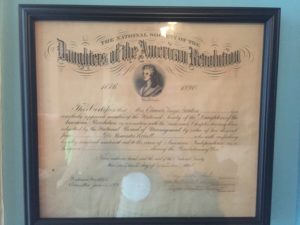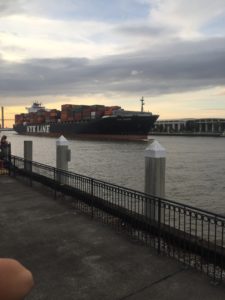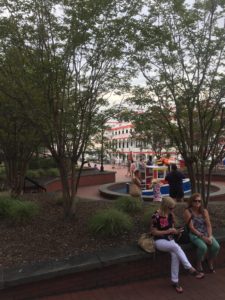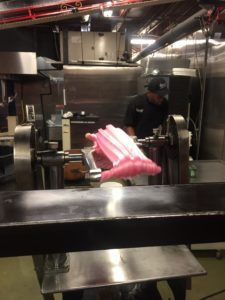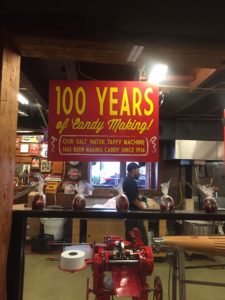 After an eventful weekend, I began the week by continuing my GIS mapping and AIS vessel tracking projects. I receive an email from AIS vessel tracking each time that a boat enters/exits Gray's Reef. I have been compiling this data into an excel spreadsheet to be used for future studies. It is important to log this data each day because the vessel's track line is only available for 24 hours after it passes through the sanctuary.
This Tuesday began a little different than most. Instead of beginning the day by attending the weekly staff meeting, Marybeth, Aria, and myself woke up early and headed to Hunter Army Airfield Base at 6 am. Aria needed to complete her checkout dives in order for us to bring her on VIP dives. The checkout dives consist of preforming different skills to ensure that the diver is capable of diving the conditions at Gray's Reef.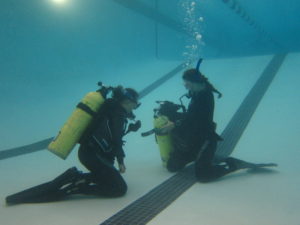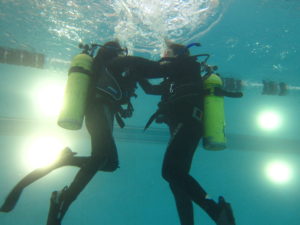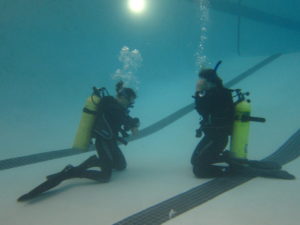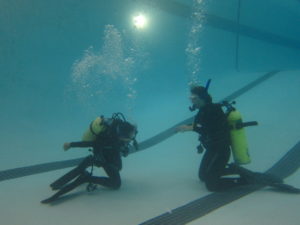 Photos by NOAA, Erika Sawicki
Aria is the acting superintendent at Gray's Reef and is on assignment from NOAA headquarters in Silverspring, Maryland. In addition to completing the checkout dives while at the pool, I was able to have a little fun and try something new! We were able to test out one of our pieces of dive equipment, an underwater scooter. Underwater scooters are helpful in scientific diving by minimizing a diver's effort as well as are helpful with getting places quicker. It has been suggested that Gray's Reef should use underwater scooters to get from drop to drop instead of being picked up on the boat each time. This would reduce the amount of times ascending and descending as well as overall time getting on and off the boat. This would streamline the diving procedures and hopefully more data could be collected each day.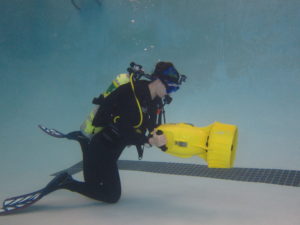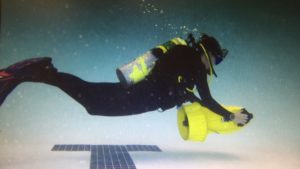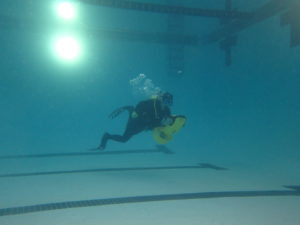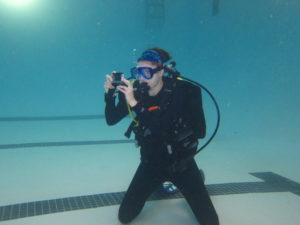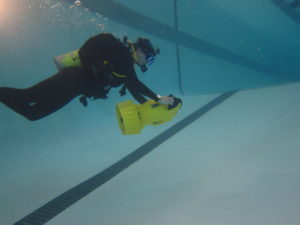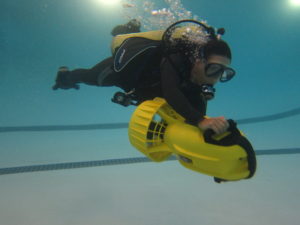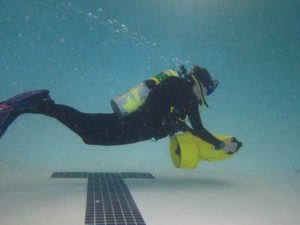 Photos by NOAA, Erika Sawicki
Once we were done at the pool, we headed back to the office for the weekly staff meeting. This week was special since we were celebrating ENS Marybeth Head's accomplishment of becoming LTJG Marybeth Head. After our celebration, I set back to work on GIS. I have been working diligently to learn about ARCGIS with my time at Gray's Reef. Before this summer, I had no prior experience with GIS. But since arriving in Georgia, it has been my goal to learn as much as possible with my time here. And today, I have finally accomplished one of my goals!!
I have successfully created a GIS map with xy coordinates of Gray's Reef. I created a map that shows the sighting locations of lionfish throughout the sanctuary. I found different YouTube videos very helpful to learn the different features of ARCGIS. I also learned that sometimes it is better to start with a clean slate then keep working on the same project that has not been successful. As well, sometimes it is helpful to spend time clicking around the program, familiarizing yourself with the different features even if they are not particularly useful to your specific project.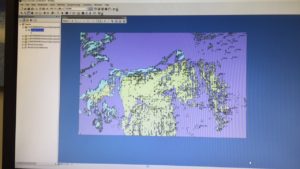 The following day was mostly spent preparing for dive operations. I created the Float Plan for the day and helped launch and prepare the R/V Sam Gray. We cleaned up the boat and did an inventory check before we used the crane to launch the boat back in the water. It had been taken out for repairs (a reoccurring story this summer). Besides preparing for dive operations, I continued updating the diving effort and AIS vessel tracking data.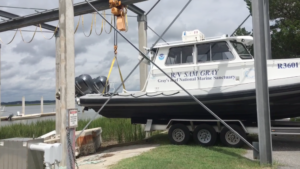 Thursday's dive operations were slightly different than the usual dive operations. We were conducting VIP dives with Aria. Since Aria is not a certified NOAA diver, there are different rules that apply for the amount of dive buddies in the water. Therefore, instead of the usual two-three people in the water, on this day we had five divers in the water. Chris Hines and myself were conducting assessment, inventory, and retrieval of the hydrophones, while Aria and her two buddies were able to observe the work we were completing. As well, on this day we did not use bounce dives, instead after our work was completed we continued the dive. All five divers swam together around the reef, exploring the area and showing Aria different creatures. We completed two VIP dives and one additional scientific dive for a total of three dives for the day. On the scientific dive, Kim and myself were the only two divers in the water.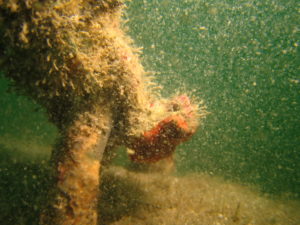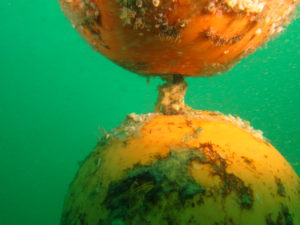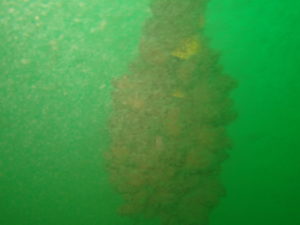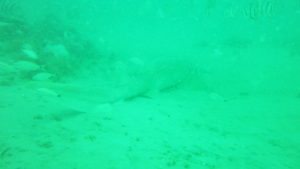 Photos by NOAA, Erika Sawicki
The conditions were not the best we have seen at Gray's Reef, but it was still a successful day diving! We accomplished our goals and were able to get Aria diving at Gray's Reef before she left to return to Maryland. That evening, we had a going away party for Aria at a local restaurant. It was nice to be able to talk to different members of the Gray's Reef team outside of the office.
This week ended in the office where I completed multiple different tasks. I began by organizing the remaining receiver data and photos that we have been collecting this summer and continued working on my AIS vessel tracking data. Similar to the First Aid kit inventory, I was also tasked with organizing the new Divemaster repair kit that had been ordered.
I had a relaxing weekend, catching up on laundry and other things that I had not finished during the week. I took a bike ride down to the grocery store, which is the closest thing to Skidaway Institute of Oceanography. Although it is the closest thing, it is still 5 miles each way.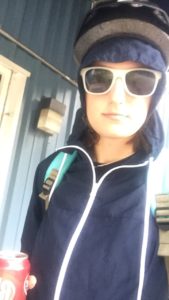 On Labor Day, Marybeth and I went out on her boat, launching on the boat ramp off Skidaway Island. It was a bit comical because once we got down the river/marsh, the boat would not accelerate. We spent the rest of the day, idling down the river/ocean. Even just idling down the river/ocean was still a lot of fun — listening to music and looking at all the houses. I have learned to make the best out of unexpected changes in plans this summer. We ended the day by getting pizza and getting ready for the week ahead. Who knows what is to come next!