The past two weeks (9/5/17-9/18/17) have definitely been one for the books; it has undeniably been eventful to say the least! This week started by being given the opportunity to write the weekly WOW. Each week, a weekly WOW is written to inform others about what each sanctuary has accomplished. They are distributed by email throughout NOAA. The main focus of the weekly WOW was the VIP dives with Aria and the continued receiver work. Each weekly WOW is accompanied with a couple pictures showing us in action.
The following day, I was off on my first of a string of adventures. I had the opportunity to visit and tour two of the NOAA ships; the Nancy Foster and the Thomas Jefferson. Both of these ships were in port in Charleston, South Carolina and I was able to drive up from Savannah before they left. LGJT Marybeth Head set up a tour with a NOAA Corp officer prior to my arrival. Once I arrived (about a two hour drive), I met the NOAA Corp officer and was shown around both ships, from the engine rooms all the way to the bridge and everything in-between! Many of the NOAA Corp officers were bustling around the ship during the tour, preparing to head out of port.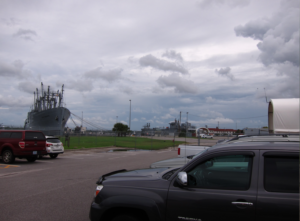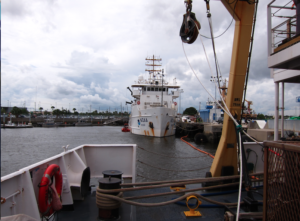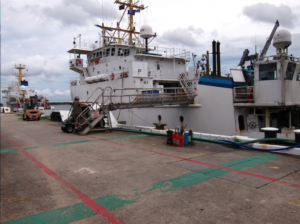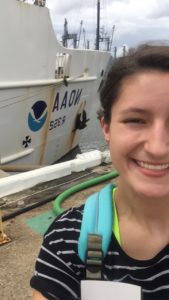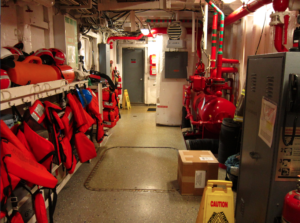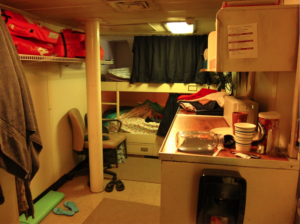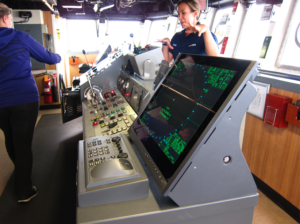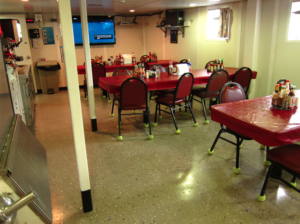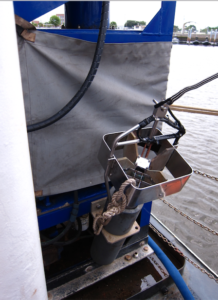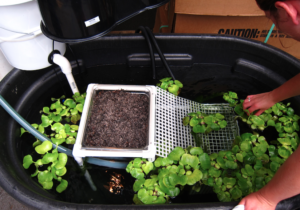 I learned that NOAA ships often have a previous purpose, such as use in the Navy. Once a NOAA ship, each usually has a specialty or is geared towards a specific task. The Thomas Jefferson works on mapping of the ocean floor, while the Nancy Foster is a little different than most NOAA ships. The Nancy Foster is a more general ship that can accomplish many different tasks. This ship travels around to different areas throughout the year, with scheduled stops such as Gray's Reef. The Nancy Foster usually spends about two weeks in the summer working within Gray's Reef to help gather a bunch of different data. They have smaller boats on board that are launched each day from which the diving effort takes place. Members of the Gray's Reef team go out on the Nancy Foster and help accomplish these diving efforts; NOAA volunteer divers have also helped. Within the NOAA Corp, each officer is assigned to a ship for a period of two years. After this, they then have a land assignment for three years. This rotation continues while in the NOAA Corp. These NOAA Corp officers aboard the Nancy Foster help according to their training.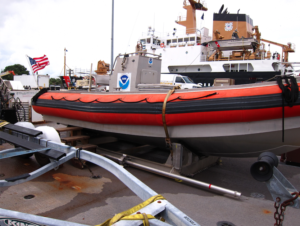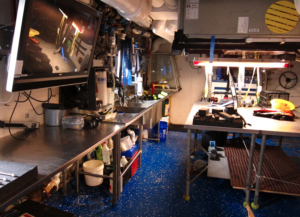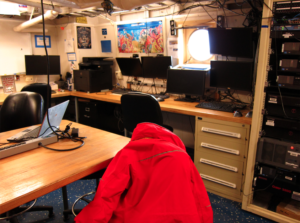 You may be thinking right now, how exciting! However, the excitement was just beginning. After the interesting turn in events at the beginning of my internship, the first half of my summer has followed suit.
As we intently watched the weather each day, the forecast seemed clear. Hurricane Irma had other plans and we were about to make an unplanned journey from Savannah, Georgia. We hurricane prepared the office, which consisted of packaging all the valuable/important items and electronics in plastic and bags, moving the dive gear out of the GROUPER, boarding up the windows and doors, and moving the vehicle's to a safer location. Overall, it took about a day and a half to fully prepare. Once the office was prepped, I began preparing myself. Since we did not know the extent of the storm, we decided that I should bring all of my belongings with me in case I had to fly home from a different location.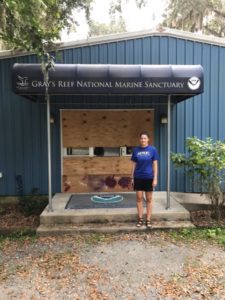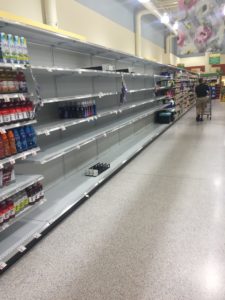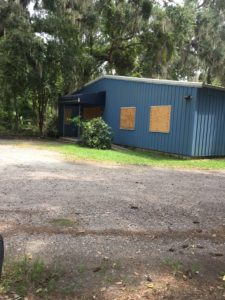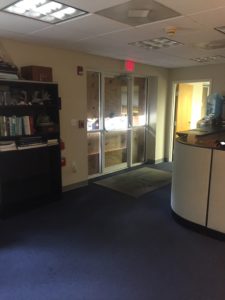 The next morning, September 8th, Marybeth and Erin picked me up at 5am and we began the drive to Fort Benning, in Columbus, Georgia. We decided it was better to leave early so we would miss the traffic. Marybeth's lifelong friend is currently at Fort Benning and we stayed with them while we outwaited the hurricane. To make things a little more interesting, we had eight chickens, a cat, and boat in tow. Upon arrival at Fort Benning, we unloaded and made the chickens a makeshift pen out of a kiddie swimming pool and netting.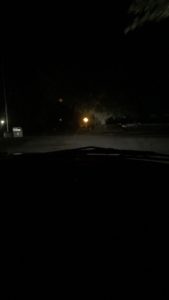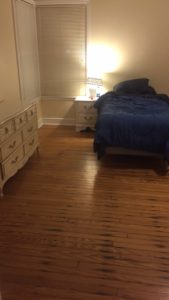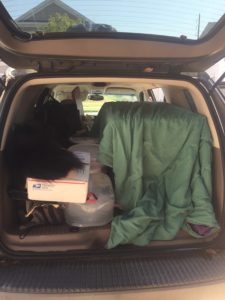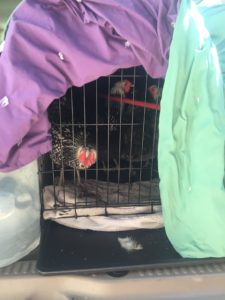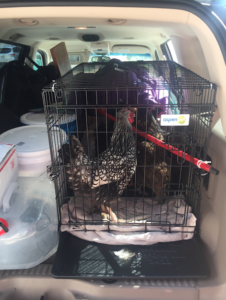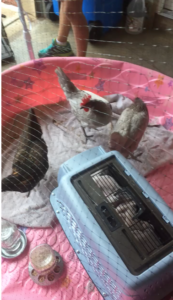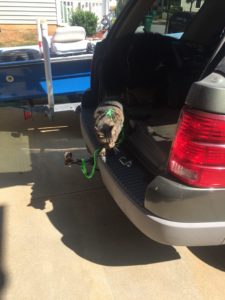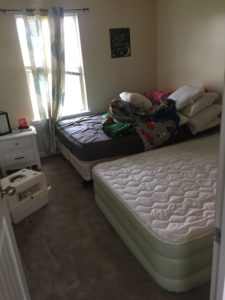 We then took a nap before the "circus" began. Including us, the house we were staying at had a total of five adults, a five-year-old boy, two 16-month-old twin girls, a dog, three cats, and eight chickens.
For the next few days, we hung out and explored the area. We visited the National Infantry Museum and Solider Center as well as a Wild Animal Safari. A Wild Animal Safari is a drive thru animal park. I had never heard of such a thing and did not really know what to expect. You are able to buy bags of food before you enter the park. The animals, such as bison, elk, deer, zebras, and cows, will literally stick their heads inside the windows of your car. It is definitely fun to see the reactions of people when there is a large bison head basically in their lap, drooling waiting for you to feed them.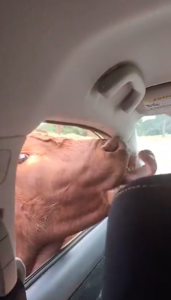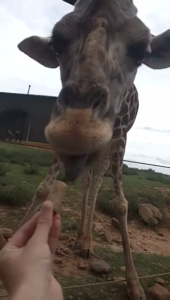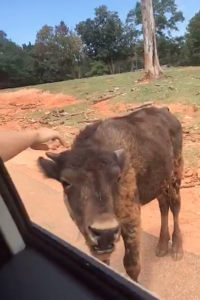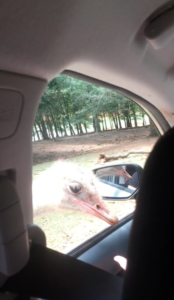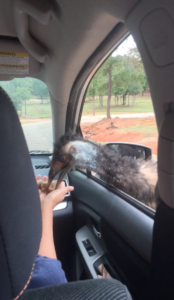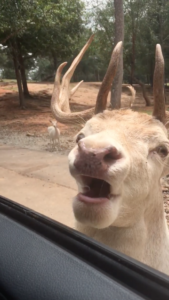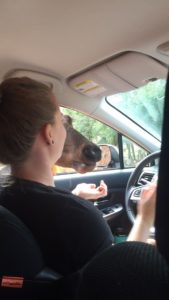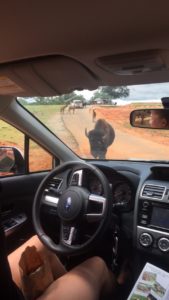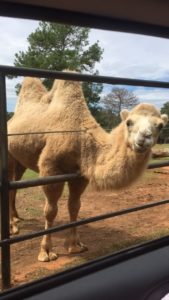 The National Infantry Museum and solider center had different sections for each war. It was neat to see the different artifacts from varying time periods. My grandfather was part of the 10th Mountain Division and they had an entire section about them.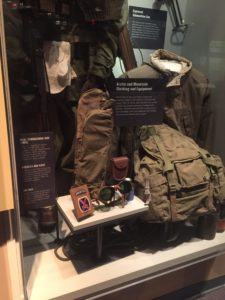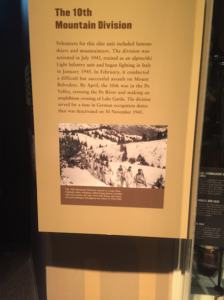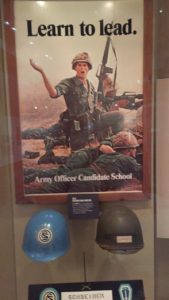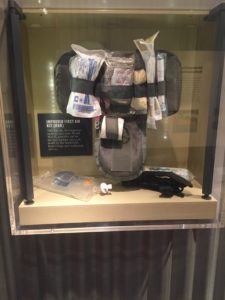 To make things a little more interesting, while evacuating for the hurricane I received an email about interviewing for a job that I had submitted an application. I responded, stating I would love to interview however, I am currently evacuating for Hurricane Irma and think I will be available at these times, but I am not really too sure.
Monday was the day the storm hit. We hung out at the house all day and thankfully did not lose power. On Tuesday afternoon, September 12th, we were able to return to Savannah, Georgia. This also happened to be the same day that my phone interview was scheduled. On our drive back, we stopped at a gas station with a dirt parking lot. Here, I completed my phone interview with the eight chickens in a dog crate in the back seat.
While driving back, we noticed damage fairly close to Fort Benning and all the way to Savannah. Thankfully, the damage mostly consisted of down trees and no major damage. Marybeth even had power by the time we returned. I was not able to return to Skidaway Institute of Oceanography where I had been staying prior to the hurricane (due to power outages), so I stayed at Marybeth's house until I left for the AAUS symposium. Luckily, we were able to return to Savannah before my flight departed for the conference on Thursday morning.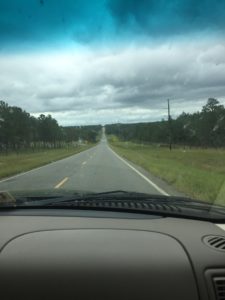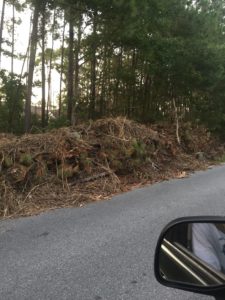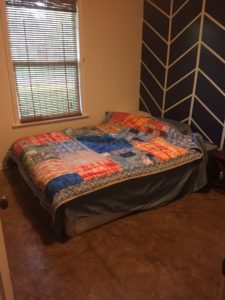 I spent Wednesday preparing for the conference and re-packing my suitcase once again. I also explored the area surrounding the office to see if there was any damage. Everything looked all right however, we still did not have power at my previous housing or the office. I am not sure how, but a dishwasher ended up in the front lawn of the house I was staying at prior to the hurricane.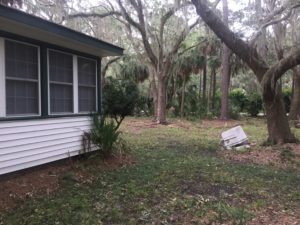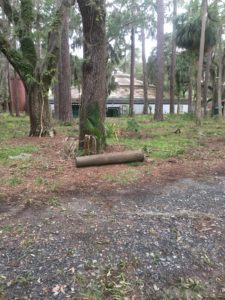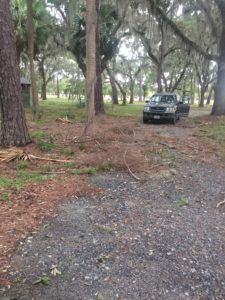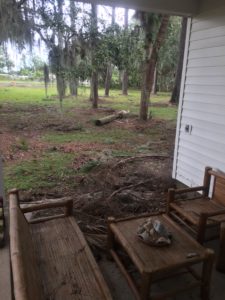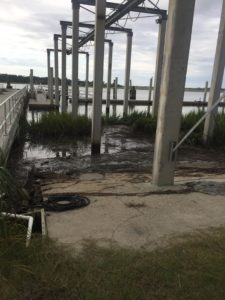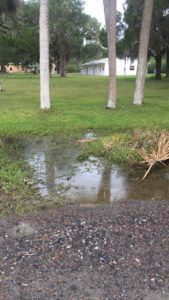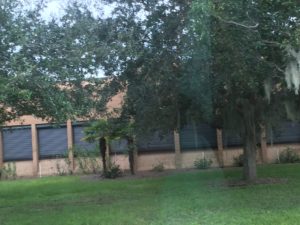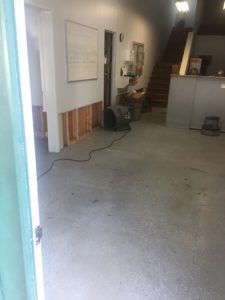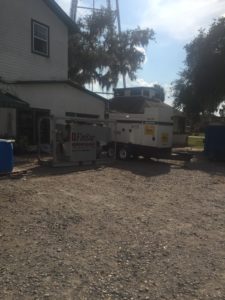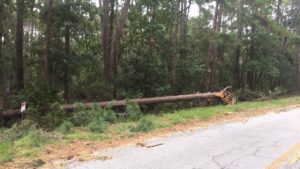 I received the Kevin Flanagan Travel Award, which allowed me to attend the American Academy of Underwater Sciences (AAUS) symposium as well as present the story of my internship at the conference. Therefore, I traded in my bathing suit and shorts for dress pants for the next four days.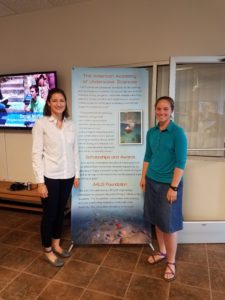 Pictured here is the other recipient of the Kevin Flanagan Travel Award, Elisabeth Maxwell.
Early Thursday morning, I was up and en route to the airport once again. This year the AAUS symposium was held at Thunder Bay National Marine Sanctuary in Alpena, Michigan. I was excited since this would be my first time visiting Michigan. I arrived in Michigan around 2 pm and entered the smallest airport I have ever seen. Only one plane (with 11 rows of seats) comes in and out each day! They did not even have gates; the plane landed on the tarmac and the steps were let down. We then walked on the tarmac, grabbed our carry on bag, and walked inside. The inside of the airport consisted of 4 rows of seats to wait for the plane and one security line. There TSA security has a total of four full time employees. To top it off, the check in line was the same as the baggage claim!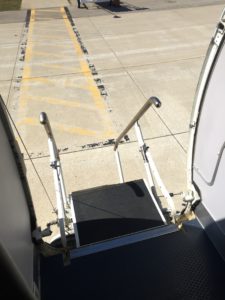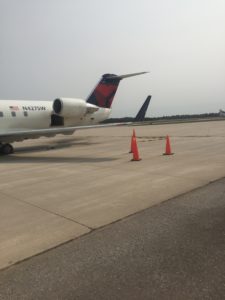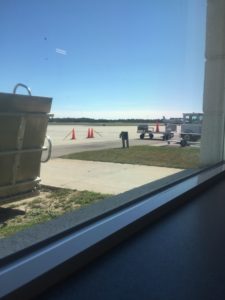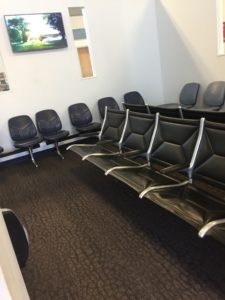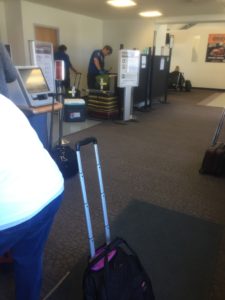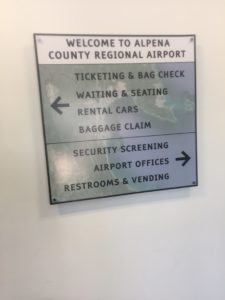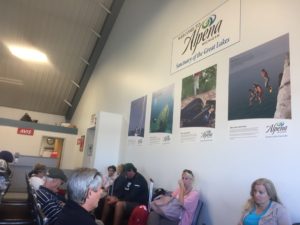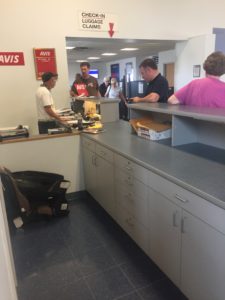 Luckily, I came in on the same flight as John S. Pearse, who received the Scientific Diving Lifetime Achievement Award and was being honored at the AAUS Symposium. I hopped a ride with him to Thunder Bay National Marine Sanctuary, where I would be staying in their bunkhouse for the duration of the symposium. I found out quickly that the town of Alpena is the appropriate size for its airport.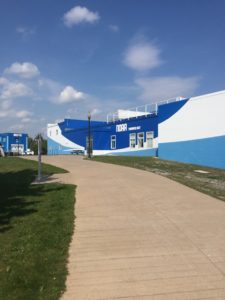 The conference officially started on Tuesday with different workshops throughout the first couple days. The first event I attended at the conference was on Thursday night, which was called 'the bubble breaker.' It was essentially a meet and greet of a bunch of people attending the conference as well as a raffle and auction to raise money for AAUS internships and scholarships. I was extremely thankful to meet some of the people that have helped support my internship/travel award this summer. It was a fun filled night, where I was able to catch up with a bunch of people I had previously met during the OWUSS annual weekend in New York City, in addition to meeting a lot of new faces. I was able to catch up with Jenna Walker, the OWUSS Internship Coordinator, George Wozencraft (previous Vice President- OWUSS Internships), Heather Albright (AAUS), Vin Malkoski (OWUSS/MA Division of Marine Fisheries), and Christopher Rigaud (AAUS/University of Maine). I was also excited to see one of my mentors and the Assistant Director of Marine Sciences from my college (University of New England), Addie Waters, at the conference.
Over the duration of the conference, I had a lot of opportunities to speak with multiple Dive Safety Officers from potential graduate school options in the future. In addition to graduate school options, it was helpful to speak to people currently in this field about job opportunities and other helpful tips and suggestions.
Friday and Saturday consisted of presentations in the morning and afternoon. Friday morning, I was scheduled to present about my internship.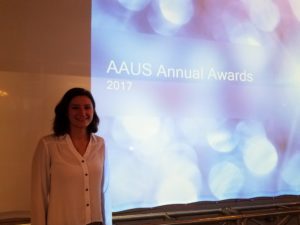 Other talks included scientific diving class programs and scientific research such as the use of underwater scooters effects on surveying, use of rebreathers, free diving in Japanese culture, Thunder Bay National Marine Sanctuary, etc. I was most interested in the talk about the use of scuba diving within the United States Geological Survey and the National Park Service.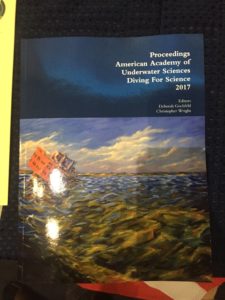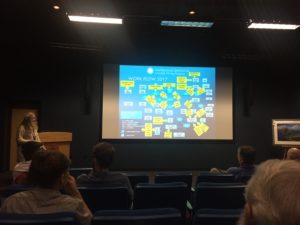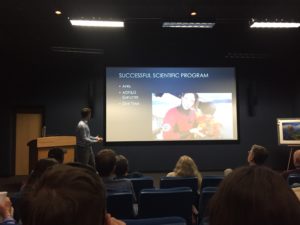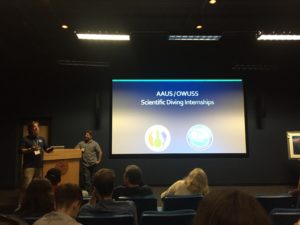 On Friday evening, I went out to dinner with a group of people from the conference in downtown Alpena. Alpena is a very small town with not much around the area, except a strip of restaurants right near Thunder Bay National Marine Sanctuary.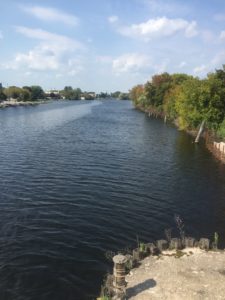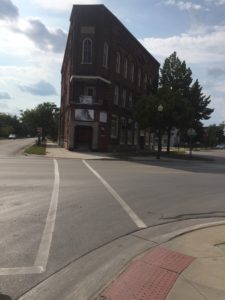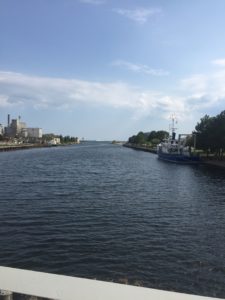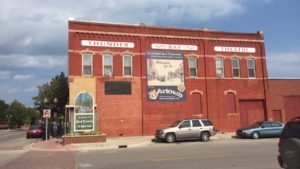 The conference ended on Saturday evening with a banquet dinner where awards were presented, such as the Diving Lifetime Achievement Award given to John S. Pearse, best student presentation, Kevin Flanagan Travel Award recipients, etc. The diving community definitely fits the definition of "It's a small world." At the banquet dinner, I met a fellow former employee of where my diving career began, The Florida Seabase.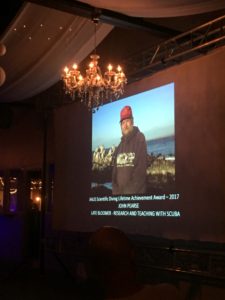 The majority of people returned home on Sunday morning, however some stayed for the dive field trips the next few days. I was unable to leave on Sunday since the only plane that left sold out. Therefore, on Sunday I had an additional day to explore the area. The glass bottom boat captain from Thunder Bay National Marine Sanctuary showed me the surrounding area of Alpena. We saw a small fishing town, the large mine, and a state park that used to be an old mine. The mines are enormous and you definitely feel very small when a dump truck looks like the size of an ant.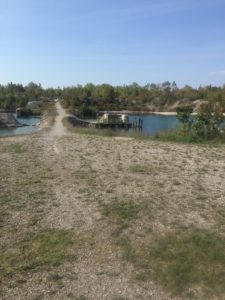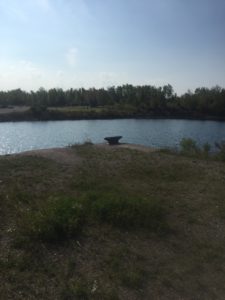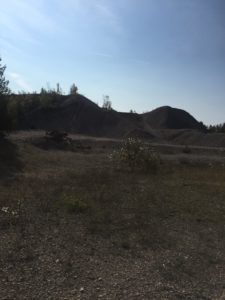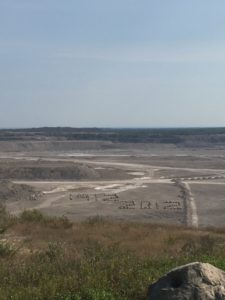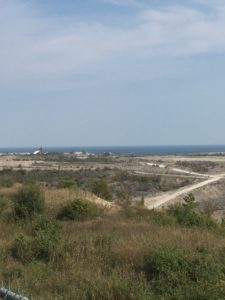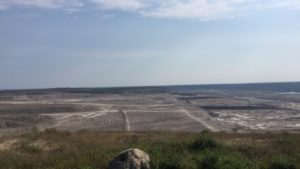 I spent the afternoon walking through downtown Alpena and visiting the Thunder Bay National Marine Sanctuary visitor center. TBNMS visitor center contains many different artifacts recovered from shipwrecks. They even have a replica of a ship that you can walk through inside the visitor center! It is filled with history of the Great Lakes.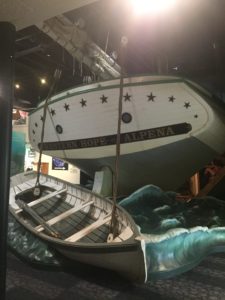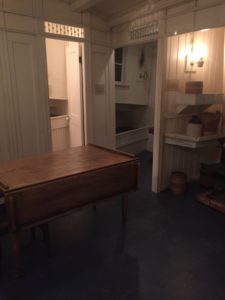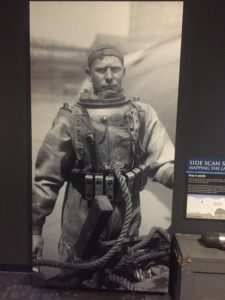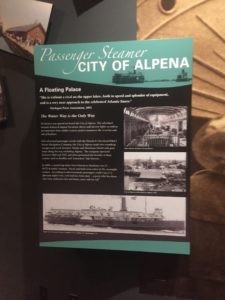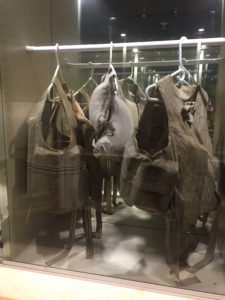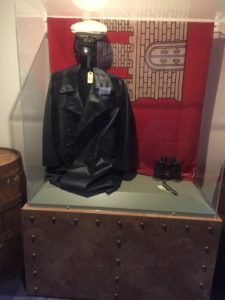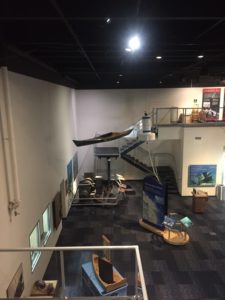 On Monday, I had a long day of flying ahead of me. I left Alpena early afternoon to fly back to Savannah. Ironically, Reed Bohne the Regional Director for National Marine Sanctuaries at NOAA was arriving in Alpena the same time I was departing. Reed's office is at Gray's Reef and he is also a colleague of my advisor Susan Farady from the University of New England. Susan had introduced us when she learned that I was heading to Gray's Reef. There was also a group of people from the conference at the airport that were taking the same flight out.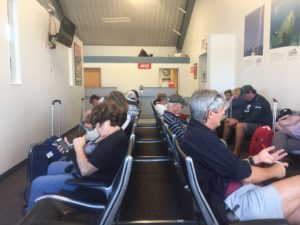 My flights went smoothly, and my final flight had a large group of young men and women that were heading to basic training for the Marines. After two connecting flights, I arrived in Savannah at 10:30pm and made my way to Marybeth's house to crash for the night. After all my adventures these past two weeks, I was ready to stay in Savannah for the remainder of my internship!