I began my internship here at the Reef Environmental Education Foundation a little over six weeks ago but thinking back on everything I have done so far it feels like I have been here for years. My weeks at REEF have been jam-packed with activities and learning experiences, and they have also been full of fun with the best coworkers anyone could ask for! My journey here started with an unexpected complication when I dropped a fridge on my leg the day that I left for the Keys, and I was anxious about starting this new chapter of my life straight from the hospital. The second that I met my housemates/coworkers, all my stress disappeared. My fellow interns, Hailey and Maddie, are the sweetest, friendliest people I've ever met and getting to go through this internship with them so far has been an unbelievable amount of fun!
Our first few weeks here were orientation and a steep learning curve. Originally, we were supposed to go straight into the water but the weather was rough when we first got here, with waves at an average of 3-4 ft, so we weren't able to go snorkeling and diving until week 3. On the bright side, the time that we lost in the water we made up for exploring our new home (and I didn't have to plastic wrap my stitches which is always a bonus)! The former interns before us left a Keys Scavenger Hunt, which included going to their favorite café in Islamorada (the adjacent Key), wandering through an artist village featuring a giant lobster statue, and finding a plant nursery complete with chickens, a bunny, and dogs! Not all the lessons were as fun as this, but they were all equally important. A large part of orientation was learning our educational presentations by heart that cover our four main programs, and I am now an expert on lionfish/invasive species, Florida Keys Ecology, and our fish ID program!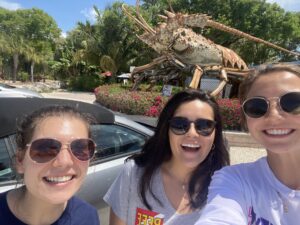 Me, Hailey, and Maddie in front of the giant lobster at the artist village
Speaking of fish ID, survey trips are definitely my favorite part of this internship, even if it is so hard to choose. Our first survey trip was unsupervised, with just the three of us Marine Conservation Interns, and it was a challenge. If I can take any lesson from this internship so far, I will say that mistakes are far easier to learn from than getting things right on the first try, and this snorkel trip was a great example of this. The waves were rough and so was the current and holding onto our dive slates was more of a struggle than I thought it would be. Since then, we have all discovered our favorite survey set-ups, which is apparently a rite of passage here. I am now a level-2 surveyor and hope to achieve at least ten surveys before leaving!
Our first survey trip!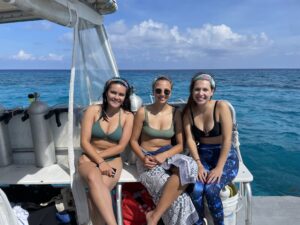 The diving here is incredible too! Only Maddie and I came into this internship with our certifications, but Hailey completed the last of her check-out dives this weekend which promises many group dives ahead. So far, I have only completed six dives, but all of them were unique and special. I have dived shallow wrecks at night, high profile reefs, and a deep wreck, which was exciting and a little terrifying. Below is a picture of my supervisor and I on our way to dive Spiegel Grove.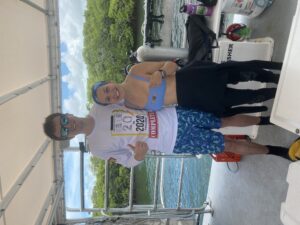 Something that I was most looking forward to this summer was our Ocean Explorers Summer Camp, which we are wrapping up this week. Even though it was a little exhausting (kids have so much energy!) I am so sad that it is over. I loved being able to introduce kids to my favorite parts of the ocean. Even though I only got three days with them, it was so special! I was able to take them snorkeling, kayaking, seine-netting, and many other fun activities. Our first week of camp was ages 8-10 and the second was 7-13. Working with a variety of age groups gave me different but equally fun experiences. I knew that I had a passion for educational outreach but working at camp confirmed this!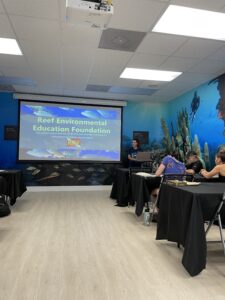 Giving my first official educational outreach presentation
While I don't want to think of this internship ever ending, I am so excited for the next six weeks! I know that they will be just as fun-packed and educational as the last half, with new experiences and adventures. I am hoping to make it down to Key West with my roommates to see a sunset and go on a tour of all the best Key Lime Pie in the area (and maybe see a Key Deer!). I can't wait to spend more time in the water now that the weather has started to calm down a little! More updates and pictures to come!