Over the past couple weeks diving has been spotty due to the high seas and busy schedule of Doug. However, the Rasher Lab did go out for a few day trips to the southern coast of Maine by Casco Bay. Unfortunately, kelp has seemed to up and disappear from these previously inhabited sites. Remnants of small horsetail and sugar kelp plants are scattered infrequently. The fleshy red seaweeds that are warm water toleratant comprise a majority of the hard rock substrate that kelps usually thrive on. Morale on the boat is always a little lower when the dive sites are seemingly barren, a situation that was happening at every site in Casco.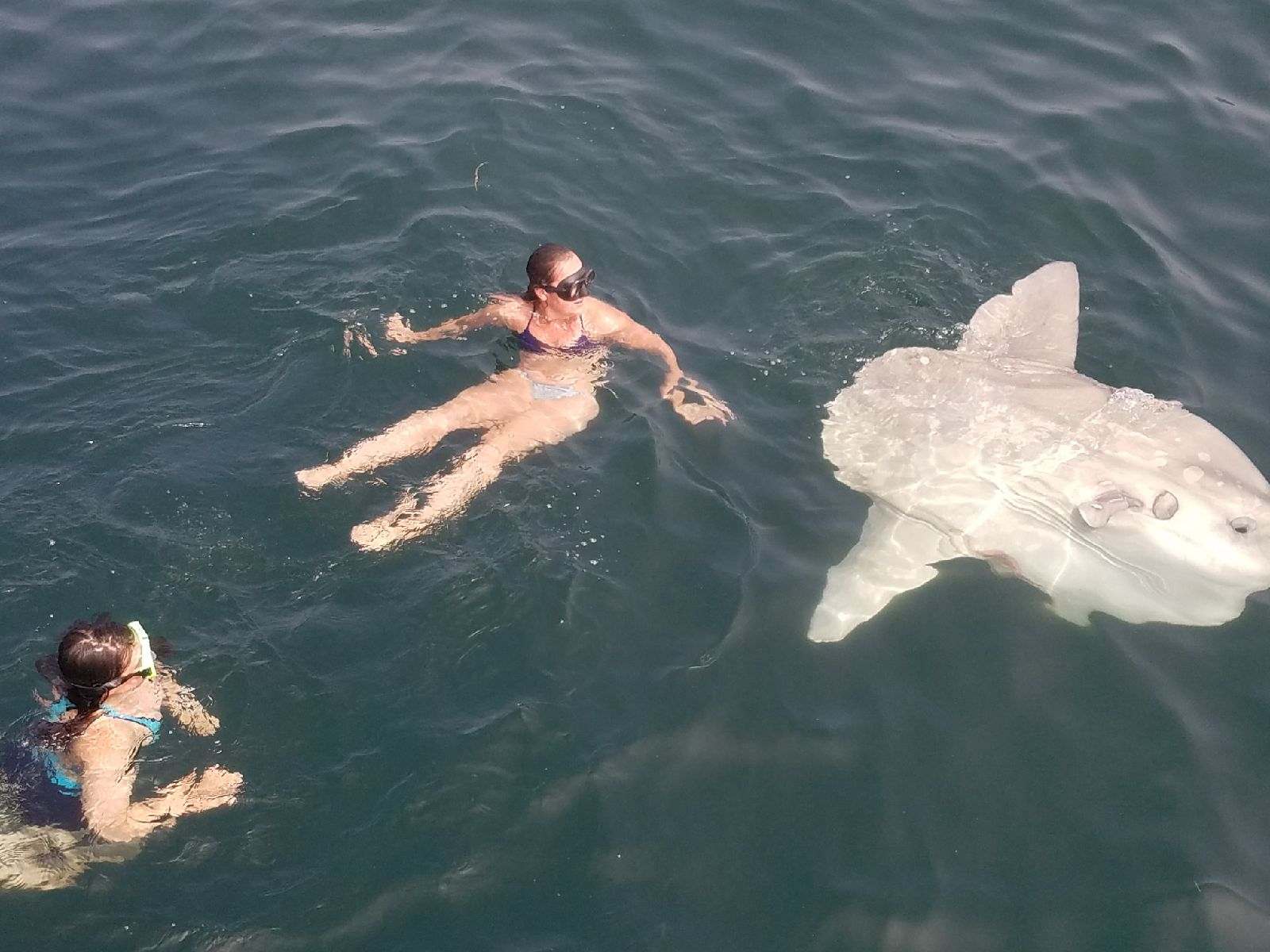 The highlight of the last couple weeks was when Chris took our dive class to Monhegan Island on a dive charter. I had previously dived Monhegan with Doug and Thew earlier in the summer; however, I was still excited because Monhegan is known for its steep mountain cliff faces and sheer drop-offs. Small swim throughs between rocks and mega-fauna like seals abounded, while Mola Mola greeted us as we approached our dive site. This wasn't at all like the 5 and 10-meter kelp collection dives. Our first dive had a deck (depth limit) of 120 feet, Chris wanted us to experience and see first-hand how inversely proportional depth and remaining bottom time were as a person went deeper. At 120 feet, we had 13 minutes at depth before we would run into decompression obligations. We also were given the opportunity to don a redundant gas supply, a small 20 cubic foot pony bottle, which I was eager to opt for, both for safety and to practice carrying the gas.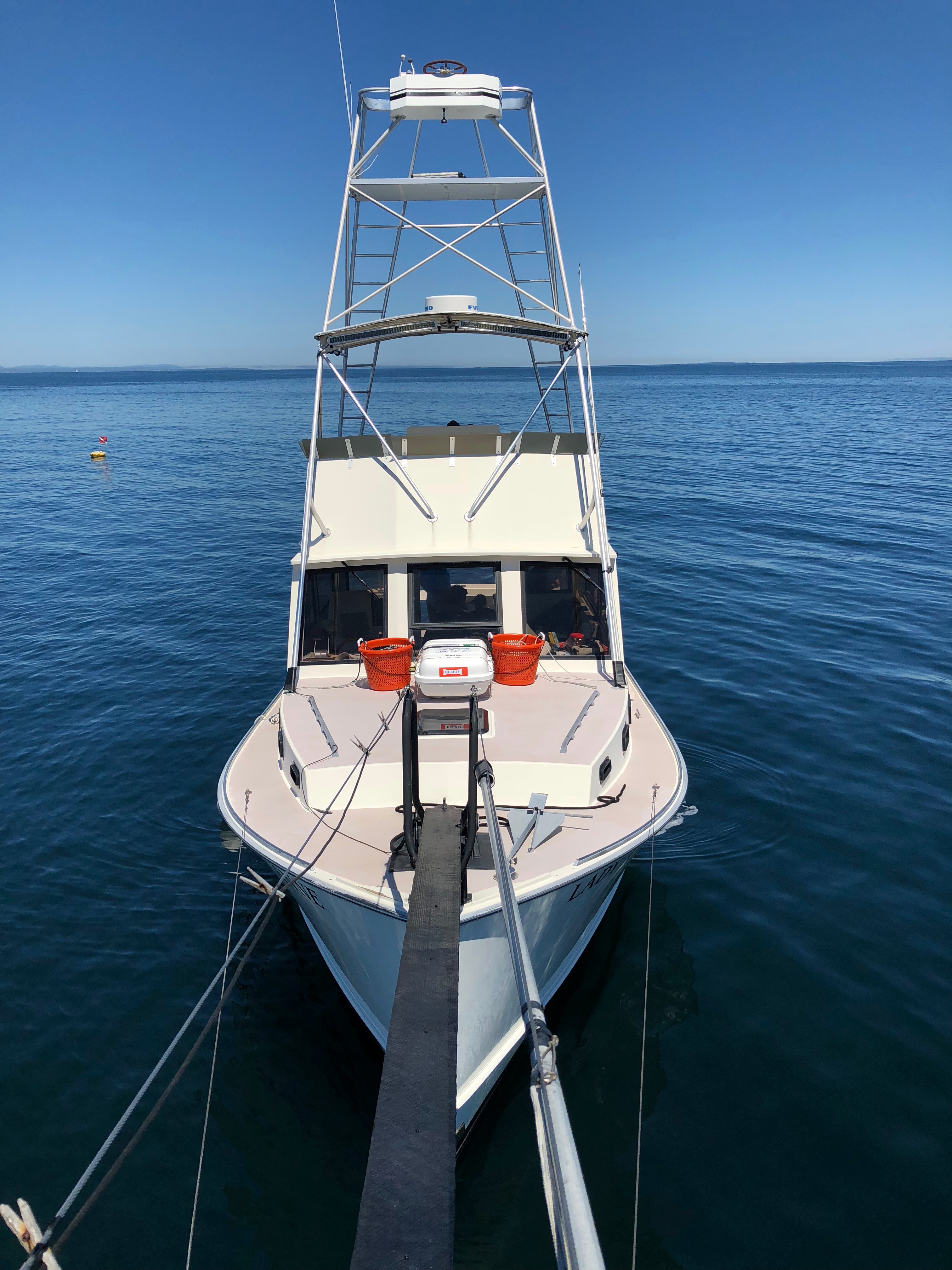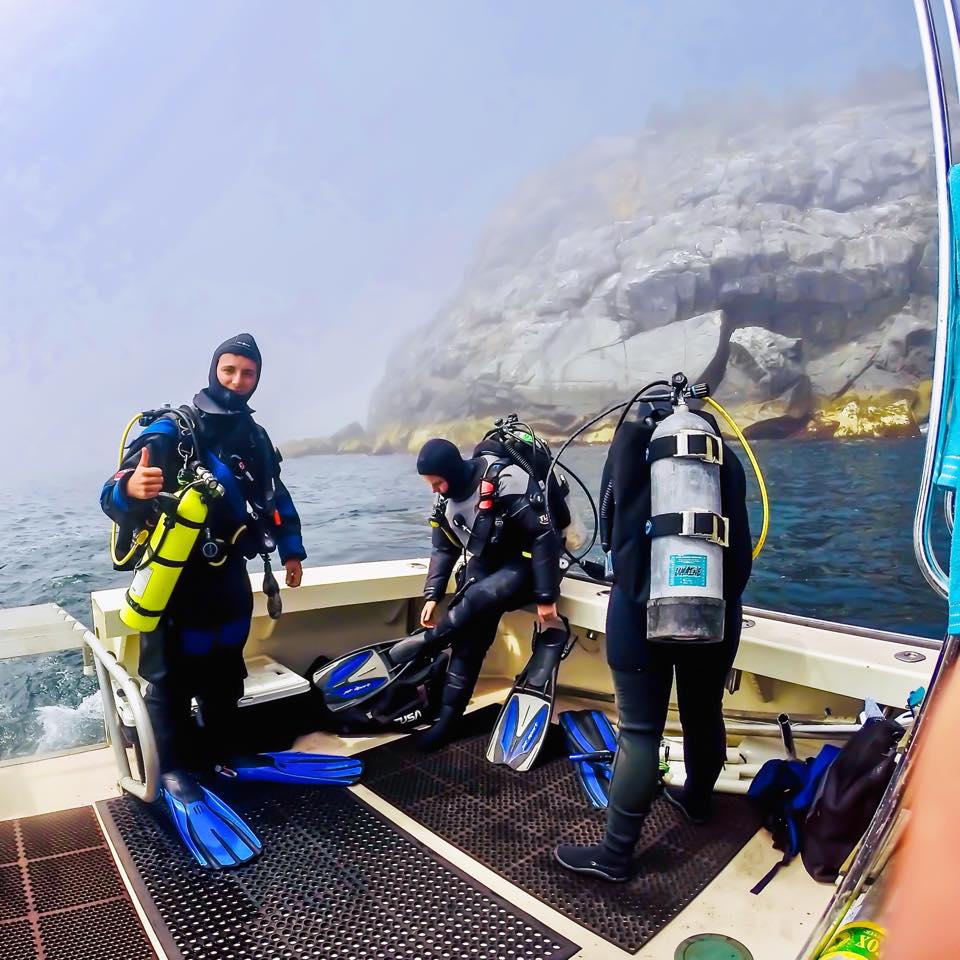 In a tropical setting with over a 100 feet of visibility, diving to depth of 100 feet seems almost effortless. Little thought and worry crosses a person mind (although maybe it should) when conducting such a dive. Here though, in Maine, in 50-degree water with less than 40 feet of visibility, and over 30 pounds of weight, drysuit, and a redundant gas bottle – there was a lot to think about.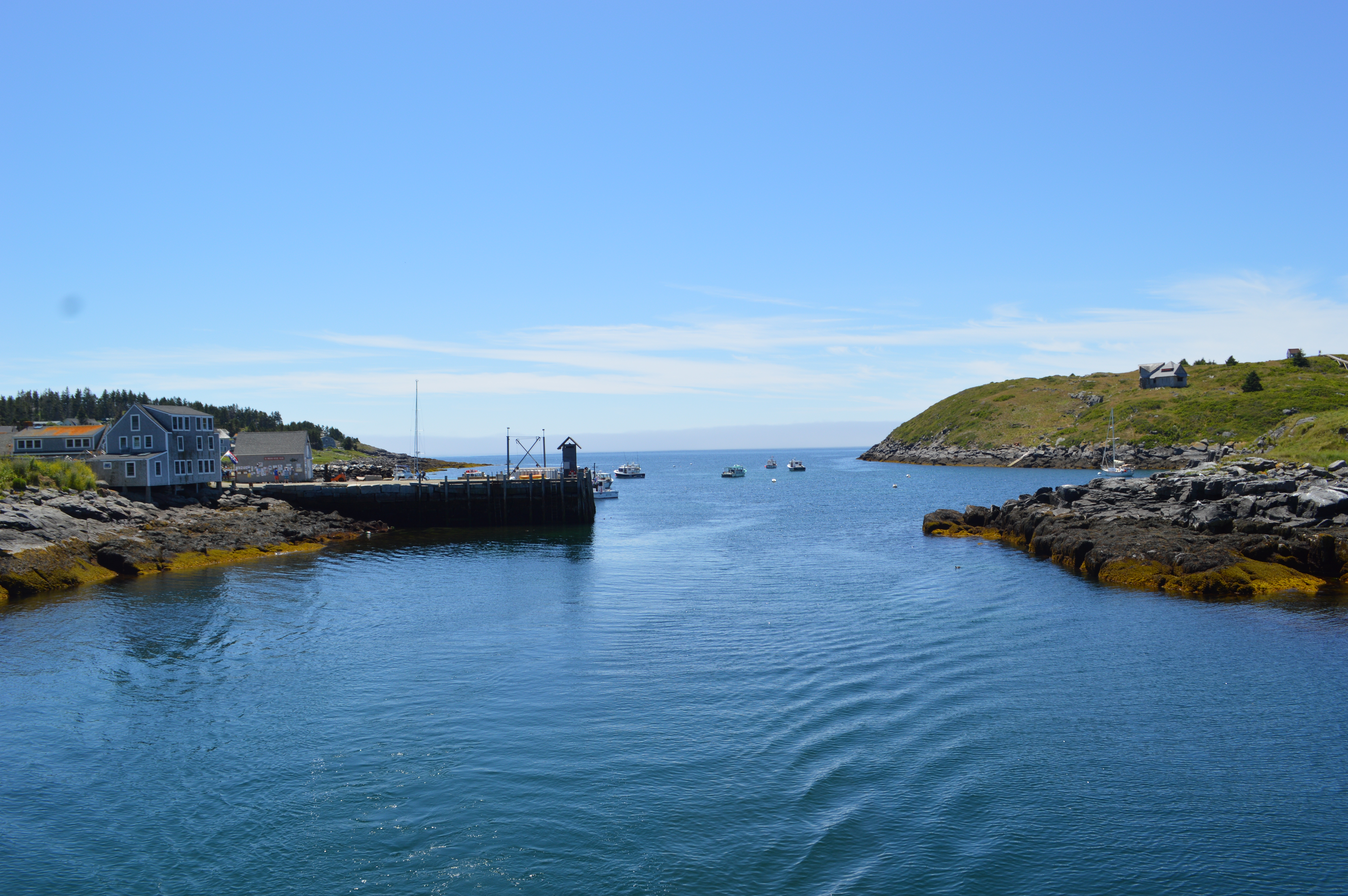 When looking at my dive computer while descending it seemed like feet turned into inches; 90 feet down, seconds later, 100 feet, 110 feet. We slow our descent by becoming neutrally buoyant. At 120 feet you begin to feel the onset of nitrogen narcosis affecting your judgment. You get a sense of euphoria and lose some of the sharp mental acuity you may have had at the surface. Personally, I thought to myself, "what in the world am I doing at 120 feet with all this stuff on me." I was sucking through air and usable bottom time like no tomorrow and signaled to my buddy to ascend to a more suitable depth. Besides, there's nothing to see at 120 feet anyway. The dive was successful with everyone returning to the boat safely. After a quick lunch break, we drifted around the island to a dive site reminiscent of some of our sampling sites.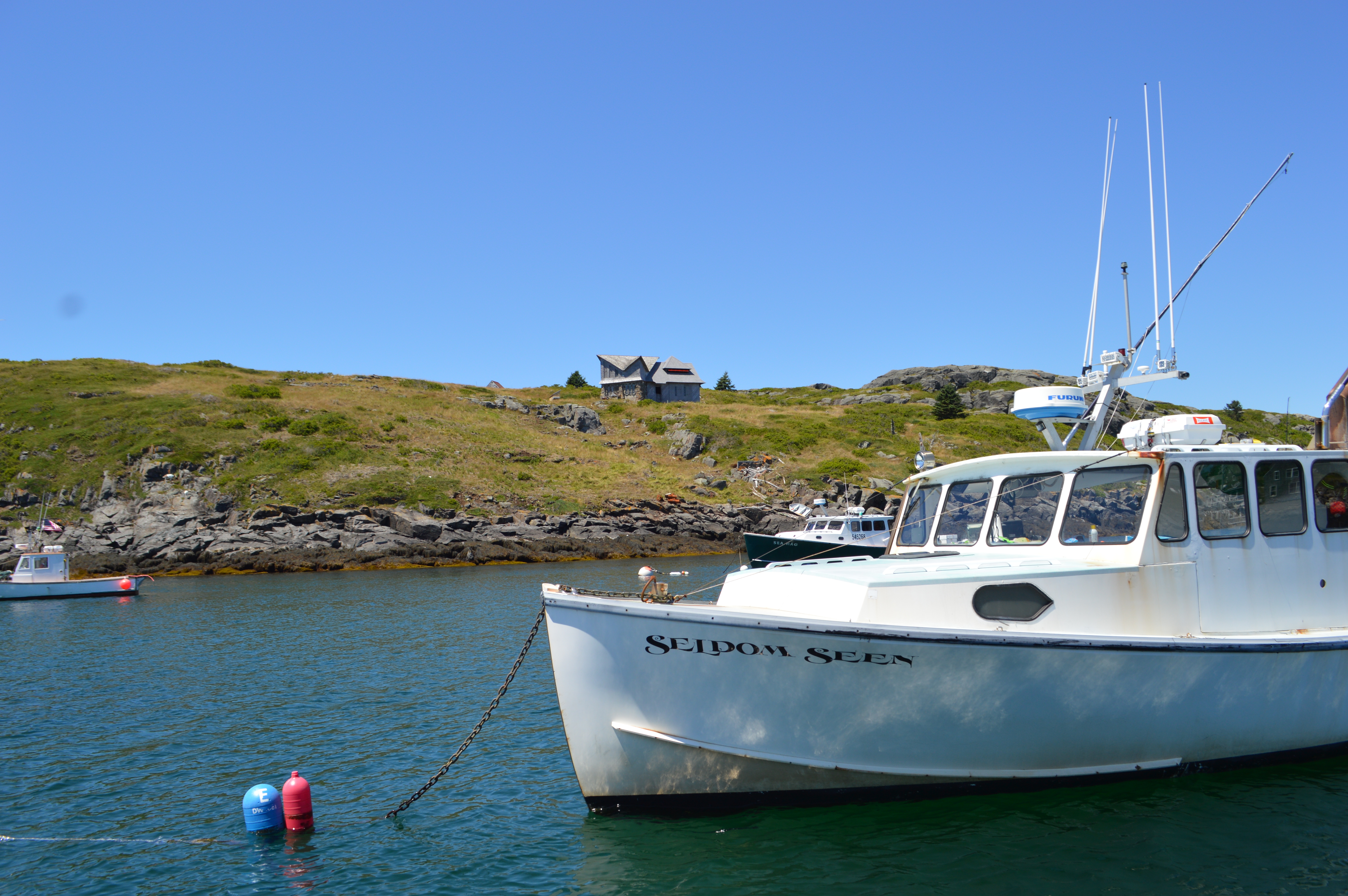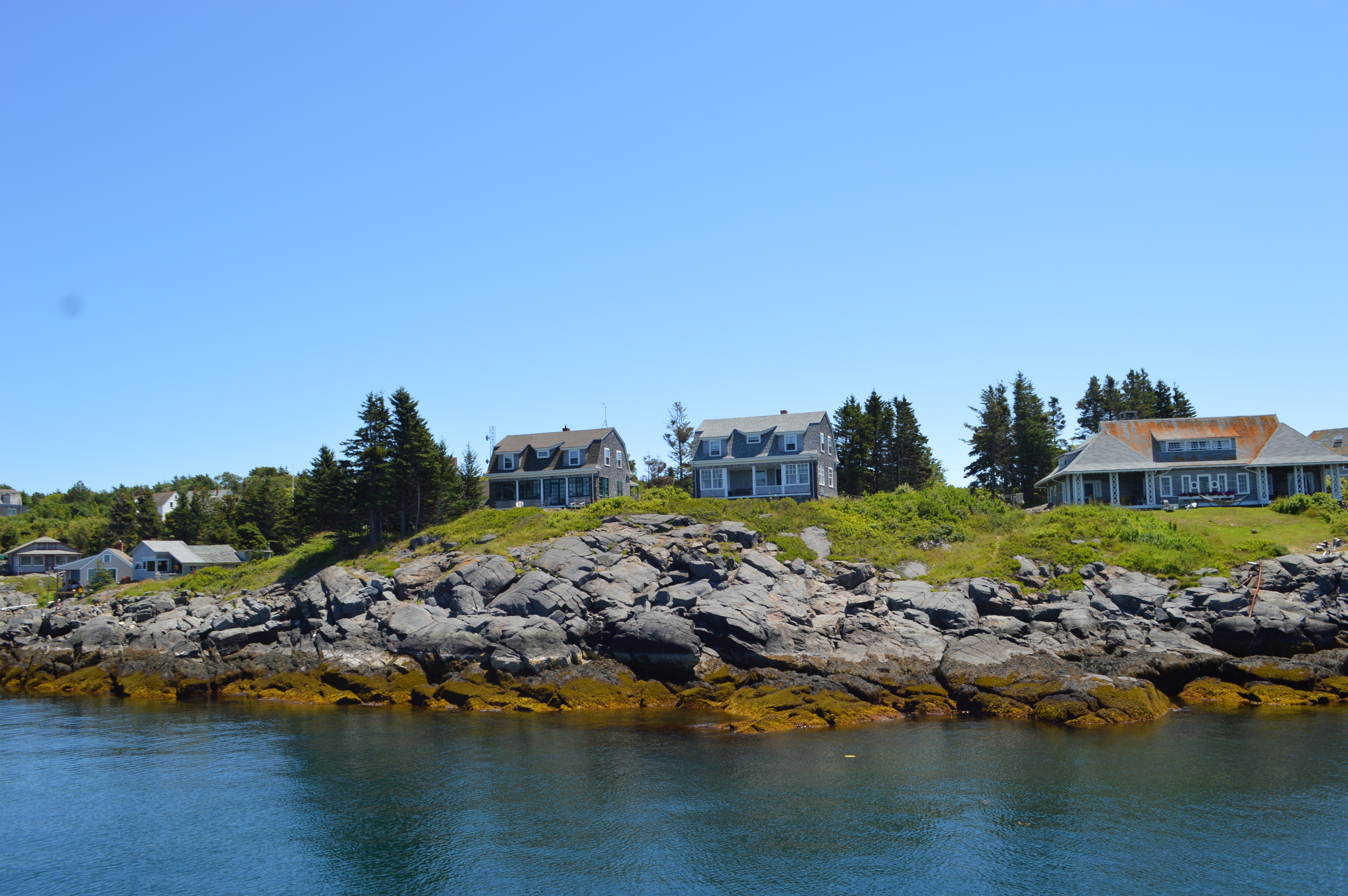 After the dive trip, there were few opportunities to dive. My last classes of AAUS consisted of water rescue skills and a DAN Pro first aid course. In the past, I've found that CPR/general first aid classes have been mainly lecture and some hands-on work – a boring afternoon with little information retained. Yet, Chris completely flipped my past experiences upside down. Broken up between two weeks, the DAN Pro CPR and first aid course was a hands-on opportunity to learn, review, and discuss different methods of life-saving and patient care.  What made the class helpful was that it was a discussion, Chris was obligated to teach the DAN standards, yet after, he would give his advice and wisdom from his years of experience in situations he's been in as a volunteer firefighter.  He would also ask if we've been taught differently from other organizations or know something different. This dialogue made the class blow by and actually improved the retention of information, for me at least.  At the end of class, Chris provided the class with small rectangular slates with general CPR guidelines, how to providing emergency oxygen, how to assembly a DAN oxygen kit, and a neurological assessment slate. These will be stowed in my save-a-dive dive kit; hopefully the only time they will see the light of day is when I renew my CPR certification!
My last dives with Doug and Thew couldn't have been much better. We had an overnight trip planned around the Mount Desert Island region. We took the Silver Sides and started the two-hour boat ride north toward Acadia. It was a perfect day with calm seas which spared our spines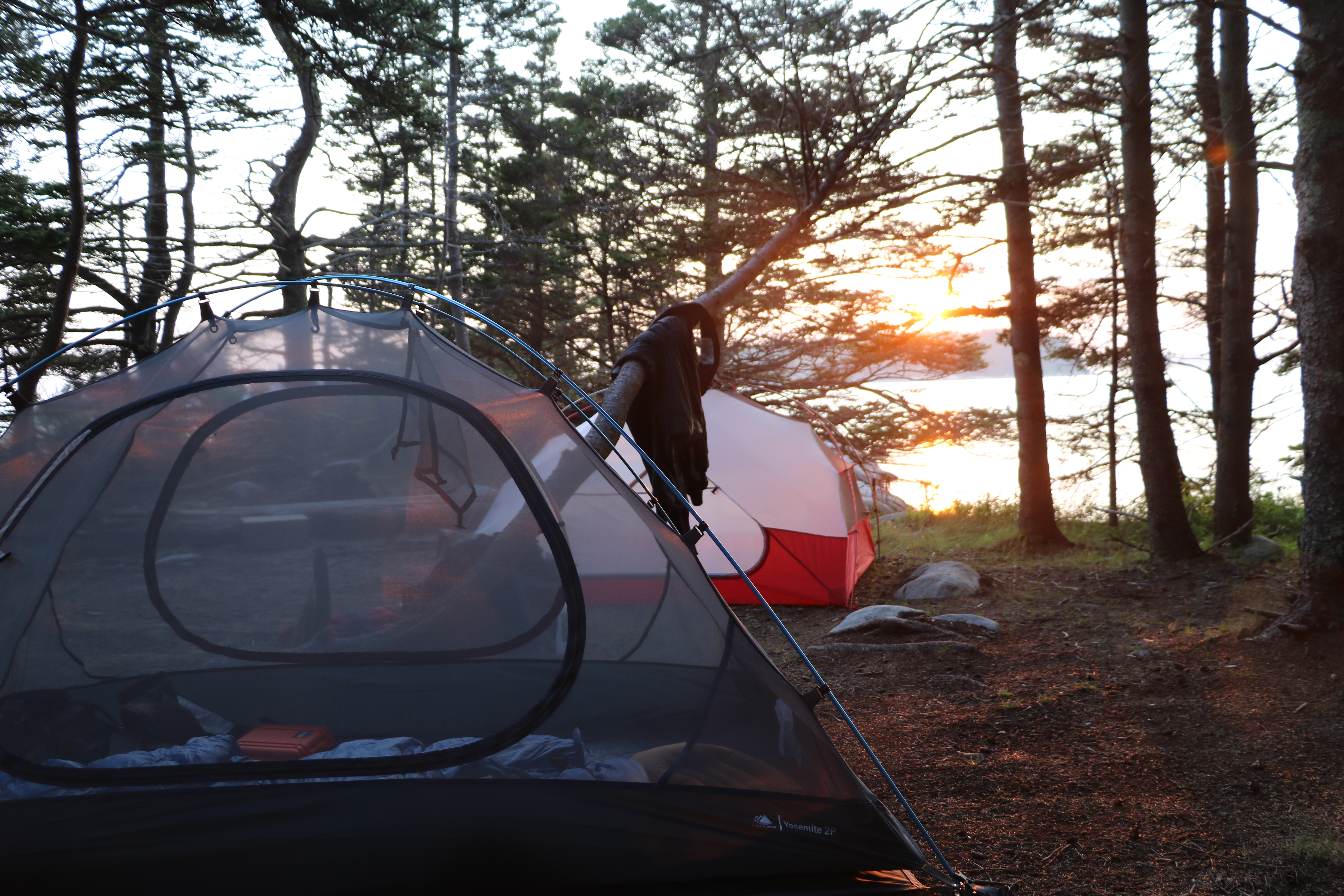 from the usual waves of the Gulf of Maine. I was particularly excited for this overnight trip because we would be camping on an island instead of getting a motel room or just driving back to Bigelow. The only downside to a long day of cold water diving is you want a warm shower when you get back, a luxury we were not afforded on an island in the middle of the ocean. However, what this small island lacked in amenities made up for in beauty.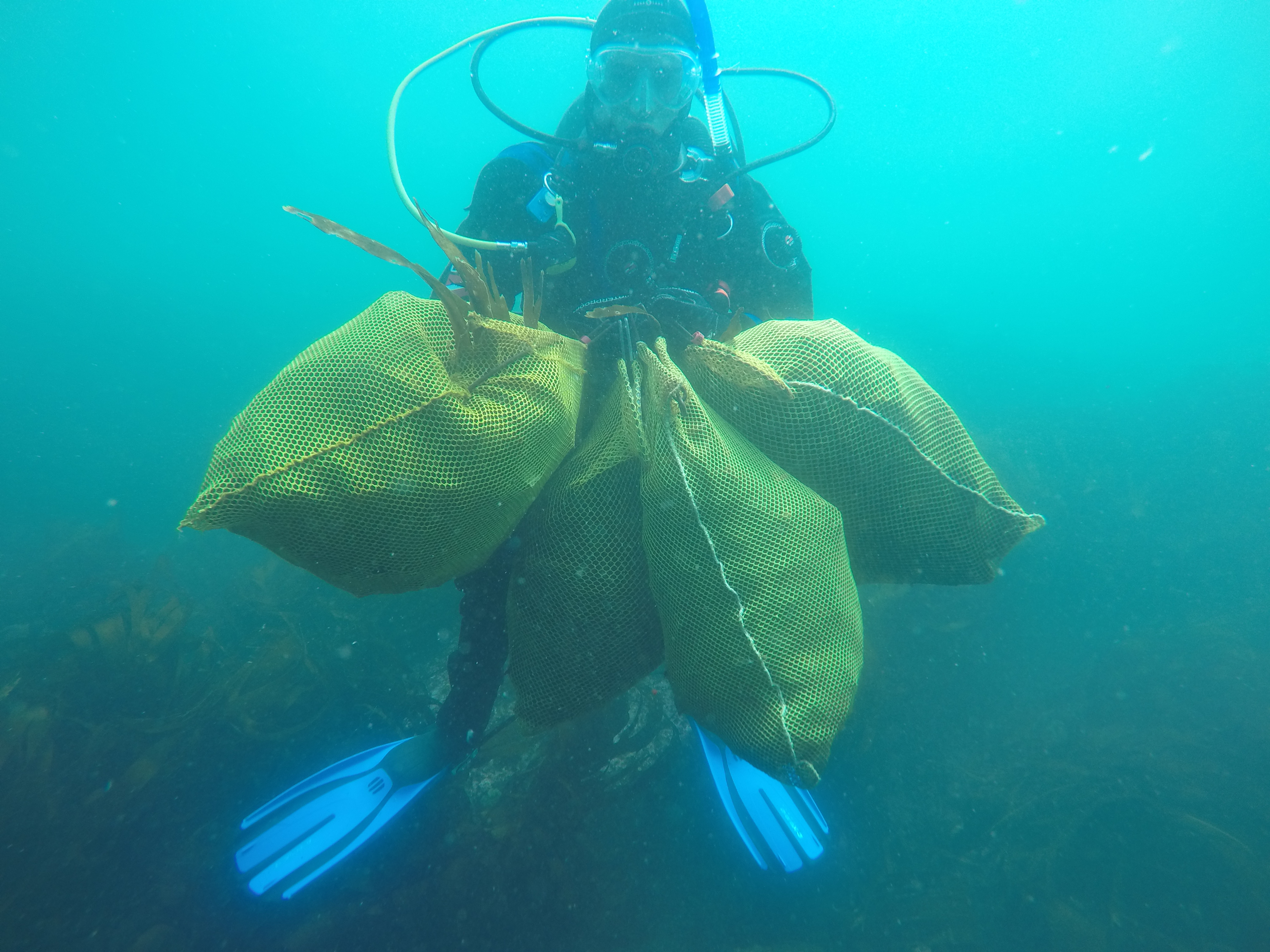 The dives in this region were kelp dominated especially at the five-meter depth. In the past, our dives had little kelp for me to collect, and when there is little kelp, I usually can complete my collection process just as Doug or Thew is done collecting percent cover estimates. Not on these dives. On one occasion, there was such an abundance of kelp that Thew was so used to me being finished when he got done with his job he started reeling up the transect line and handing his quad to me to carry back to the surface. After about 30 seconds of me trying to get his attention and communicate that I was only halfway done, and still had two more full square meters to harvest. He then re-laid the meter tape and he held the bag and stuffed the kelp as I cut the stipes by the handful. When we got back to the boat we had a pretty hardy laugh about the incident as he said, "Yeah, I was reeling in the tape and saw you signaling me, I thought we were done… nope, you were only halfway."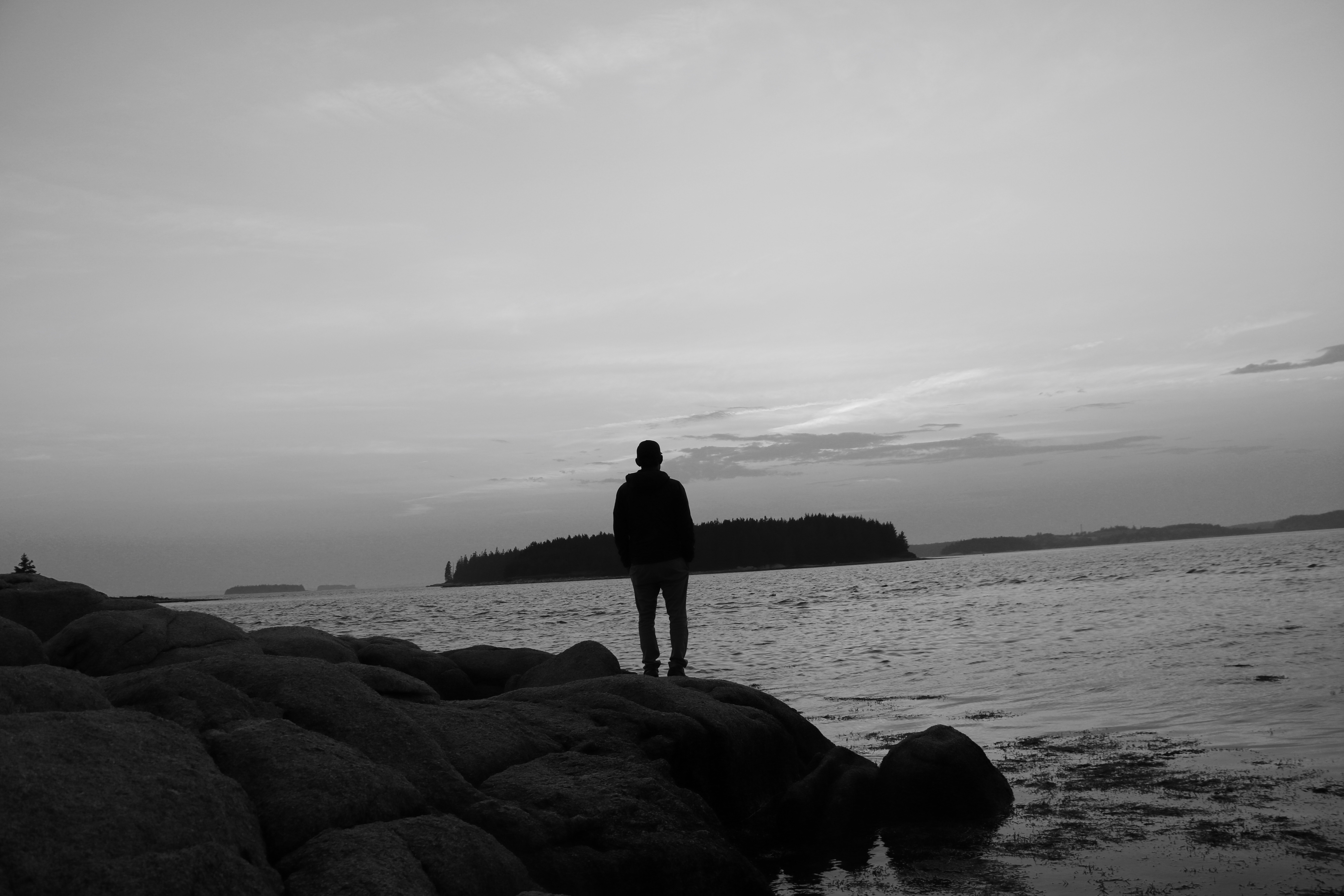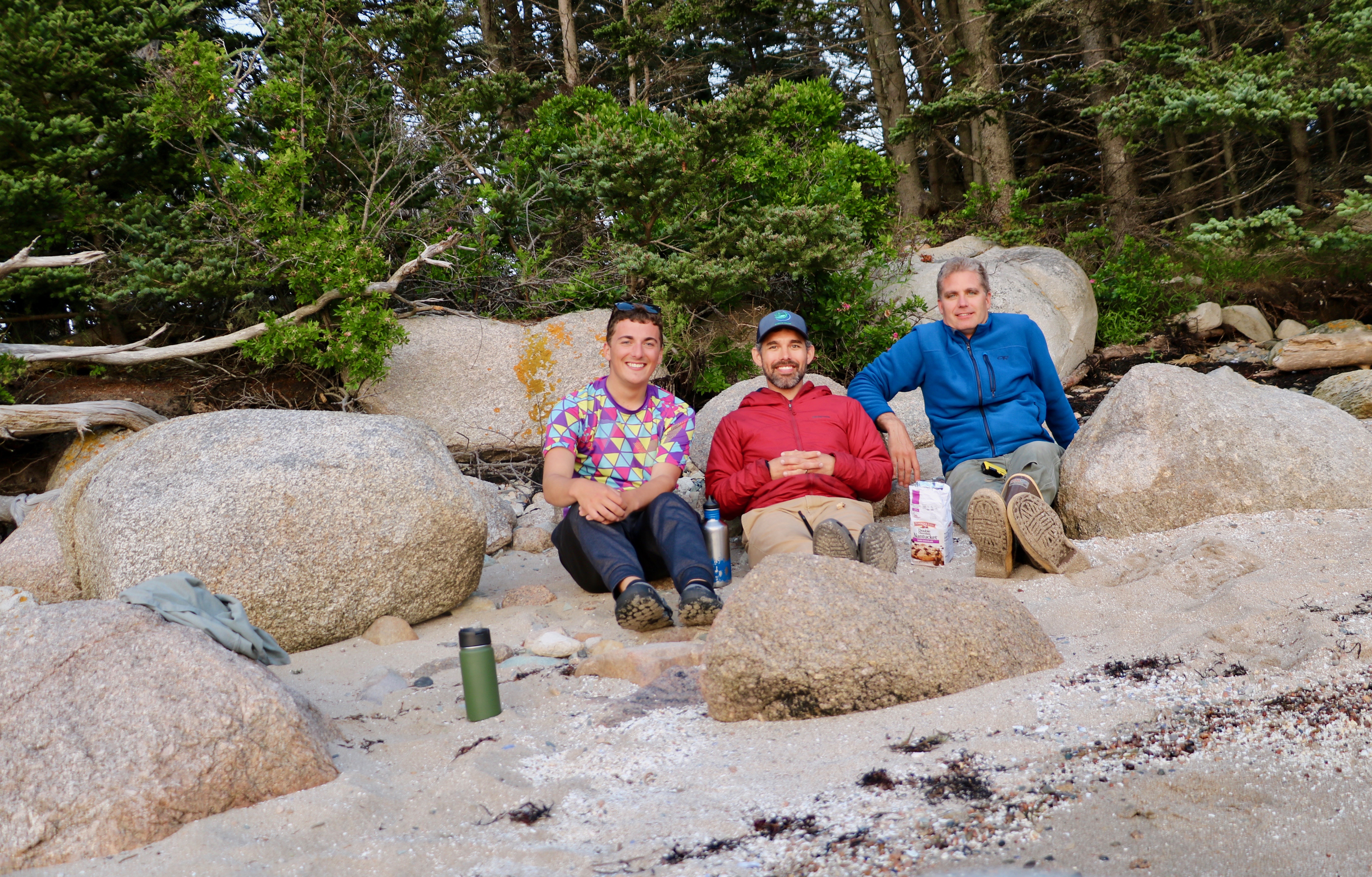 After our dives, we headed to the secluded island to camp for the night. One thing about pulling up with a boat was the whole shoreline was rocking, and with nine-foot tides, we couldn't just park the boat on shore or even very close. Thew had to anchor the boat offshore and swim to the island in his dry suit. A job that Doug and I concluded would be best for the previous division one colligate swimmer.  We set up our tents and then ate dinner on the rocks, a Pad-Thai dish Thew made the night before. After dinner, we sat on the rocks eating some cookies and watching the sunset. It had been an amazing summer with incredible experiences and even better people culminating in a beautiful last moment, as dusk turned into night and the stars appeared one by one – a place to reflect on my summer and think about my future. Doug and I stayed up talking about my next steps in the immediate future, and his plans for his research.  The peacefulness of the night faded away as daylight approached. The lobstermen were out in force or it seemed like it at least. The engines in those boats produce the most ridiculously load noise at 5 a.m. It doesn't help that sound travels on water, but you would swear the U.S. Navy was conducting some operation with the noise that was produced by these boats.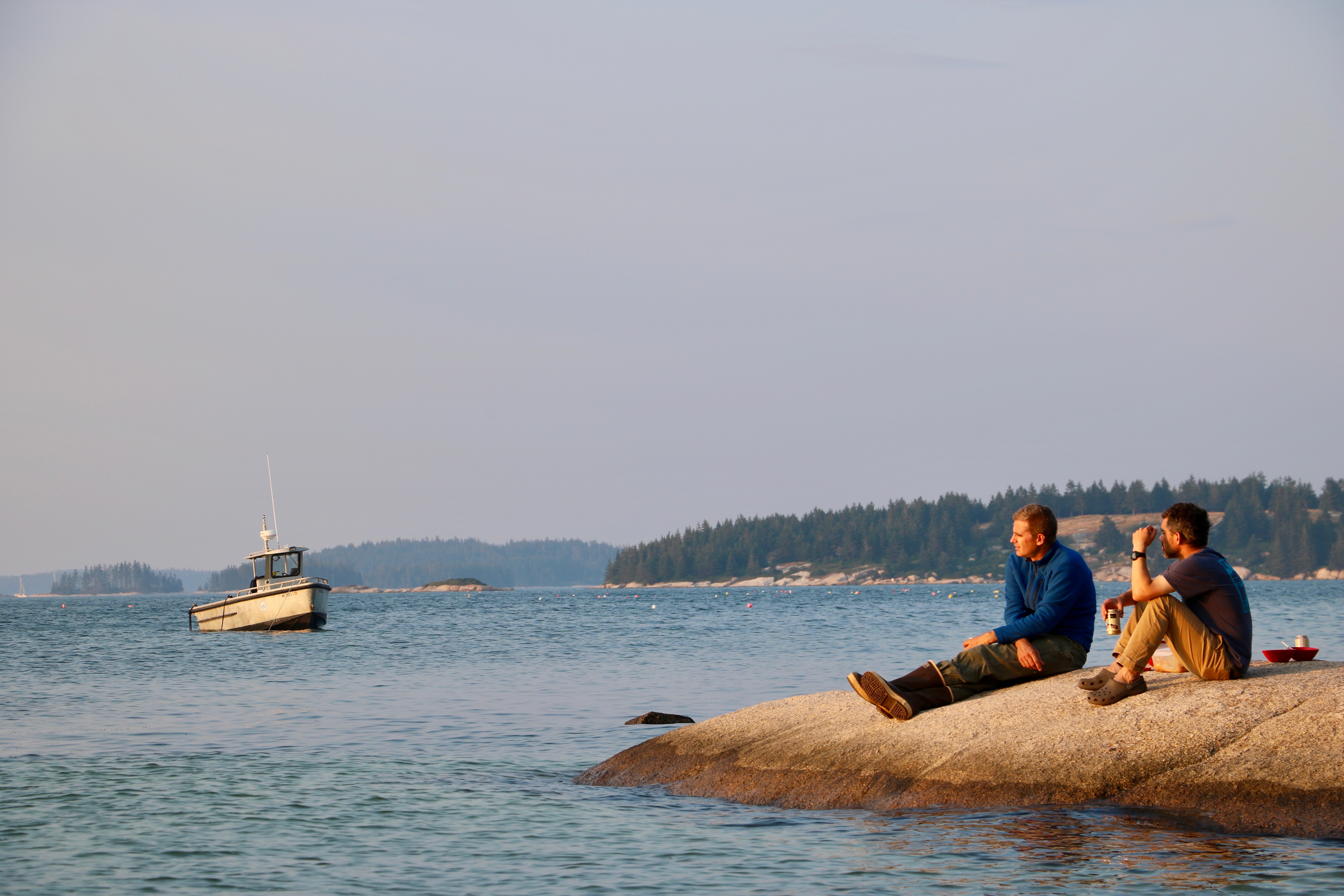 The next day was my last AAUS class of the summer. In the morning, we went to Pemaquid Point for a fun dive. Chris asked to be my dive buddy citing "It's my last dive here" a bittersweet moment, I'd accomplished so much over the 100-hour class and the summer as a whole, which I could be very proud of, yet after this, it's was coming to end. I asked Chris to take the lead on the dive because for the last dive I just wanted to enjoy myself, not worry about navigation, and let the professionals worry about that! The dive was a good one, we saw fish! Yes, there are actually some fish in the Gulf of Maine! I also saw the biggest lobster by far of the summer hiding in a crack. I swear the claws were bigger than my hands. After our first fun dive, it was back to the DMC to concluded our rescue exercises and put them to a test in a simulated live rescue.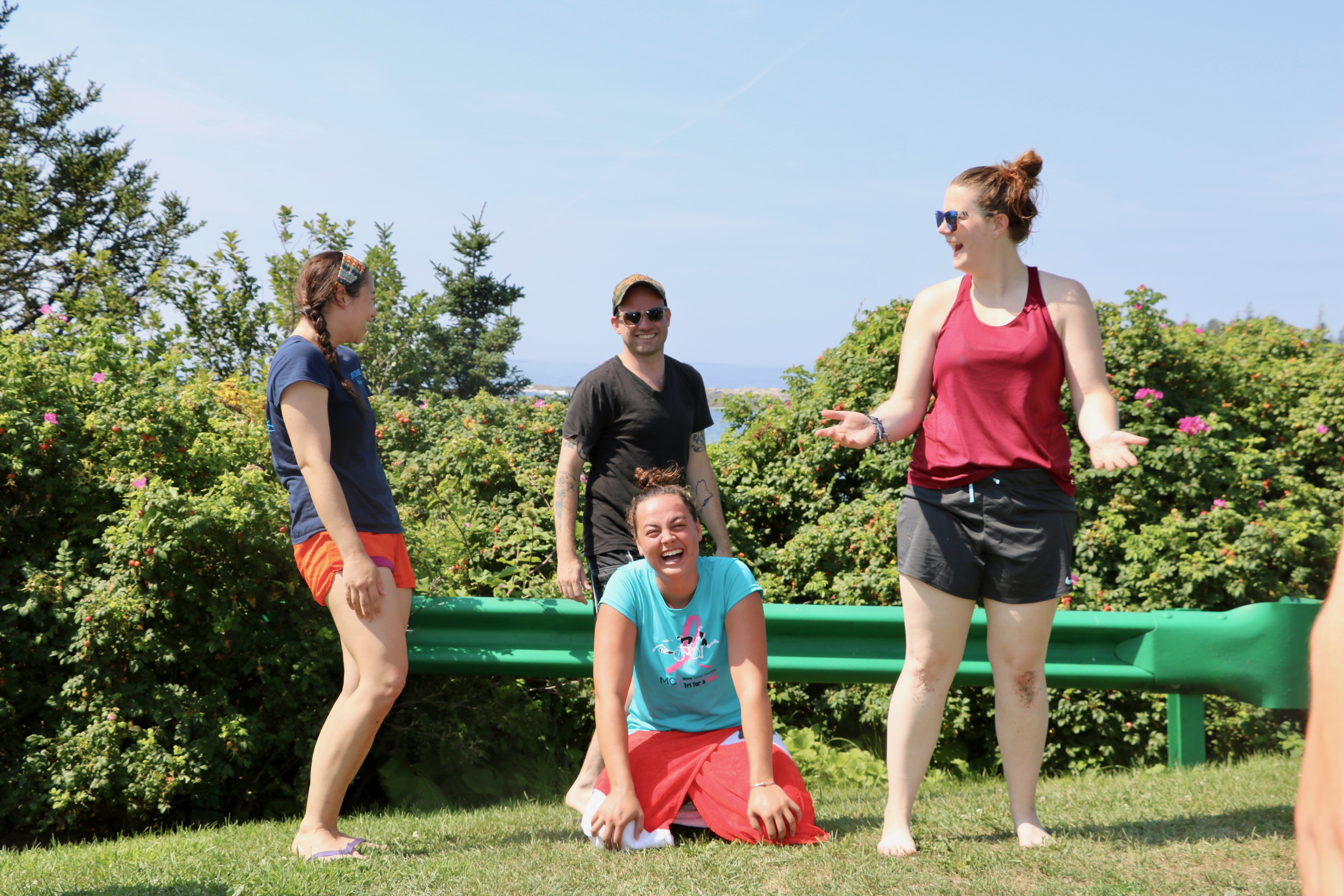 Class ended on a high note, after we got done diving, cleaned and rinsed our gear, we head to the air condition library at the DMC to take our pictures for our AAUS certification cards. We also got to learn our dive class nickname, a tradition Chris has been doing ever since his first class at UMaine. The class will get their class picture framed and hung in the dive locker with the nickname below. We were gifted with the name "the lone divers." Being there was only three of us we also were given specific names, "Tonto, Lone Ranger, and Silver." Somehow I was relegated to Silver, maybe a more fitting name then I truly realized at first. Chris even signed off on his last email to me "Hi-Ho Silver," he always knows how to make a person laugh and keep it lively.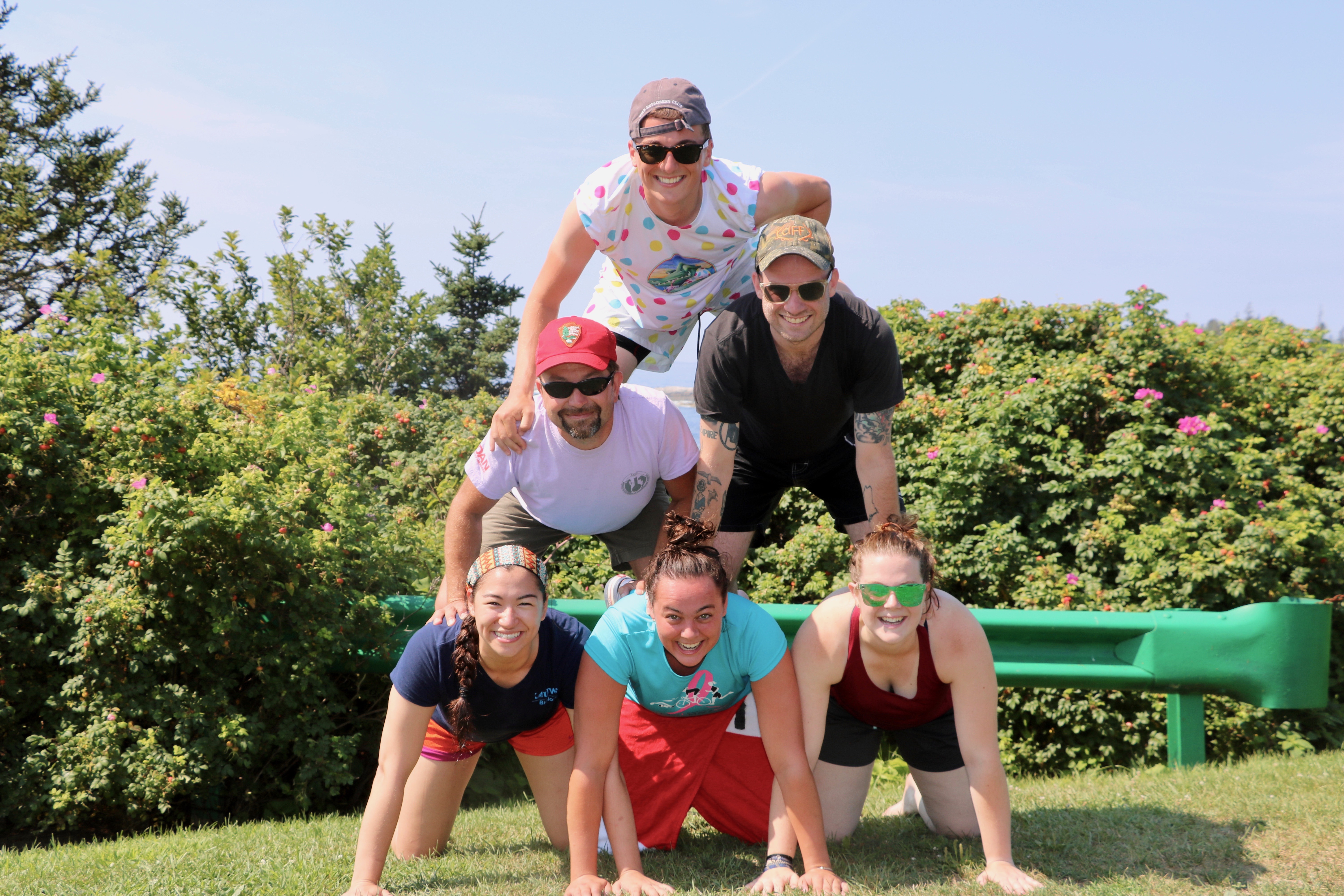 My Internship was a complete success. I earned my AAUS dive certification and got a lot of hands-on research with Doug at Bigelow. I also made friendships that will last a lifetime and made connections that will indefinitely help me in my future search for underwater science exploration. My plan at the moment is to go back to school at Lawrence University to complete my senior year. I will graduate early — this Thanksgiving — and I plan to come back to Maine and continue to help Doug and Thew with diving in the winter months. I hope to continue my education in a Ph.D. program studying inter/intra-species interactions in either kelp forests or coral reefs. Thus, if you're reading this and know of — or have — an open spot and funding for a PH.D student I'd love to get connected with you!
This is my last blog for my internship summer, and I have many people and organizations to thank. Thank you, Dr. Lee, Somers and Martha Somers for your extreme generosity. A special thank you to Chris Rigaud, Doug Rasher, and Thew Suskiewicz. Chris was an incredible host, he was a great mentor that was willing to go above and beyond to make my internship enjoyable and fruitful, whether it was loaning me gear or being on call if I ever had a problem. Doug went above and beyond as a co-host. He gave me every opportunity possible to dive, was willing to give me advice and mentor me in the realm of graduate school, and made me feel at home in his lab. Thew, was a great teacher and mentor. He was extremely patient with me when I was first identifying seaweeds and taught me all about good dive practices. His methodical attention to detail kept me in check and productive the entire summer. Thank you to Our World Underwater Scholarship Society, American Academy for Underwater Sciences, and Bigelow Laboratory for Ocean Sciences. Thank you OWUSS and AAUS for giving me this opportunity and supporting me throughout the process and in the future. Thank you, Bigelow, for housing me and making me a part of your world renowned scientific community. Thank you, Katherine Newcomer, for your wisdom and guiding me through this internship. Jenna Walker and Stephanie Roach for all your hard work behind the scenes, coordinating these wonderful internships and coordinating with USIA. Thank you USIA for letting me use your amazing drysuit, without it I would have been one frozen popsicle. Thank you to everyone else at OWUSS, AAUS, and Bigelow, for your hard work which makes internships like this possible. I had a blast and I look forward to sharing my experience at Lake Tahoe at the AAUS symposium, and the OWUSS annual weekend in New York.
With that, Chris – I look forward to diving with you again in October! Doug – be ready for more hipster music when I come back in the winter! Thew – congratulations on the new baby!
Signing off for the last time, your Our World Underwater Scholarship Society 2018 Dr. Lee H. Somers American Academy for Underwater Sciences intern.
-Shane