I think that the greatest part of the REEF summer internship is the lionfish derby series. Since I was lucky enough to attend the derby in Green Turtle Cay in June, I had an idea of what to expect at the derbies held in the U.S. First came the derby in Fort Lauderdale, Florida.  The other REEF interns and I were able to convince many of our friends to volunteer at the derby, which is absolutely necessary for it to be a success. On Friday afternoon we headed north for the captains meeting. Attendance to this is required if a team wants to participate at the derby, because the meeting discusses rules as well as lionfish collecting and handling tips.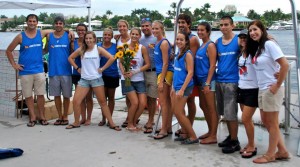 REEF Staff and volunteers at Ft. Lauderdale Derby
2 of the biggest lionfish at the Ft. Lauderdale Derby 
13 teams set out at sunrise on Saturday and would have all day to collect as many lionfish as they could. However, all fish had to be back at the dock by 5pm to qualify for the cash prizes. When teams arrive at the dock they come directly to me to check in. I note the time of their arrival, which is very important because in the event of a tie, the team that came in the earliest will win. Next, teams go to our scoring station, where each and every lionfish is measured. The results then come back to me to be entered into our database.
Once all of the fish are in and measured, the party does not stop. Myself along with other REEF interns, employees, and volunteers fillet lionfish so that it can be immediately cooked up and served to derby participants and the general public. Filleting the fish is my absolute favorite part of the derby, because the people who just happen to be at the dock or restaurant, but don't know anything about lionfish, come to you to ask questions. "But I thought lionfish were poisonous?", "Wait they don't really belong in the Caribbean?", or even "What's that?" are some of the most common questions. Educating the public is the most fulfilling part of my job so I happily answer their questions:  "Lionfish are native to the indo-pacific and as one of the most common aquarium fishes, they often get dumped in the Caribbean when people no longer want to care for them. They are not poisonous but venomous so you can eat them. The difference is that poison is ingested while venom is injected. They have 18 venomous spines, 13 on their dorsal fin, 3 on their anal fin, and one on each pelvic fin." Sometimes you even attract a few children who are absolutely fascinated by the fish. While teaching one boy about them, I came across a lionfish that was about to release her eggs…. potentially 20,000 of them!
The other question many people ask is how we can fillet them without getting stuck by a venomous spine. Filleting takes a lot of finesse and attention, but it can be done quite easily. It is important to be aware of where you are placing your hands at all times, and to go slow if you need to. Rushing won't do any good if a spine sticks you! But of course, it is fun to impress the general public with what they consider to be "bravery and skill".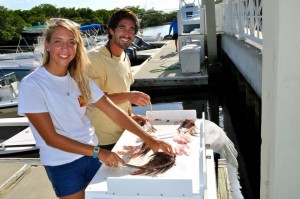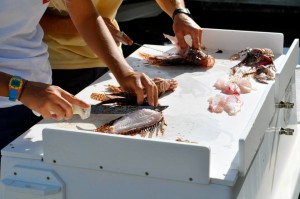 Learning to fillet lionfish earlier this summer! 
At the Ft. Lauderdale derby, the winning team brought in 58 lionfish; the largest lionfish was 400mm, while the smallest lionfish was only 62mm! In total 256 lionfish were brought in! The Palm Beach County Derby is set up in a very similar way. This year we had 8 teams bring in a total of 612 lionfish! The Palm Beach Derby ends a bit different, as it is followed by a banquet. It is a great opportunity to hang out with all of the teams and learn about their experiences and thoughts on lionfish. This years Palm Beach Derby was just 3 days before I would leave the Keys, so it was a bittersweet ending to my summer. But the derby series isn't over! On September 14th, REEF will host a lionfish derby at John Pennekamp State Park. There will also be a one-day only exception to the usual spear ban within the State Park limits. This will hopefully draw in more lionfish hunters, especially those who prefer to use a spear over nets. So if you live in the area and want to be a part of an amazing event, get a team together and go out and hunt lionfish! More information can be found at the following link: http://www.reef.org/lionfish/derbies.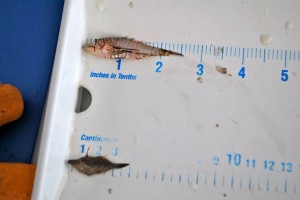 The smallest lionfish at the Ft. Lauderdale derby, and a very small filefish found in the stomach of another lionfish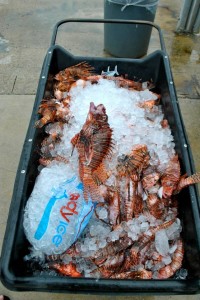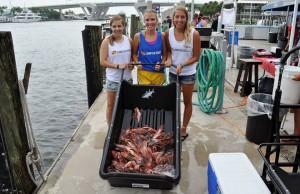 Ft. Lauderdale Derby Catch!