By Sarah Barchus
Dive No.: Week Two (Five dives)
Location:  Various sites in the office
Time in: 8 am
Time out: 5 pm
Total Bottom Time: About 40 hours
Depth: Going a little deeper
Starting Air Pressure: Full tank after the weekend
Ending Air Pressure: Ready for a refill
Exposure Protection:
˙ Business Casual
˙ Thinking cap
˙ Self-confidence
˙ In need of an umbrella
Weight: Heavier as the week progressed
Temperature:
Air: Florida's patented warmth
On the surface: Feeling a bit of heat
Bottom line: Feverish desire to contribute
Conditions:
˙ Fresh water (Florida rain, which consistently started at quitting time)
˙ Salt water (Sweating the details)
˙ Water cooler (Emptier as people traveled)
˙ Shore (At times felt beached, waiting on some detail in order to proceed)
˙ Boat (All hands needed on deck!)
˙ Waves (The work came in them)
Visibility: Couldn't see the format for the font; turning tides mean the only place to look is forward
Comments:
I walked off a leisurely weekend ready to get back on the work track. Little did I
know that a jolting game of red light green light was awaiting me. There was plenty
to do this week, with editors intermittently traveling and returning: articles needed
fact-checking, dive briefs needed writing, copy needed cutting, meetings needed to
be met, and to "Getaways" I needed to get getting.
While much of last week's profile was echoed this week, I learned a few new things,
like how Sport Diver writes an assignment letter, and how the team decides what
stories to feature in upcoming issues. One project in particular encompassed the
underlying tone of the week for me: Getaways. Why? Because the devil's in the
details.
Let me explain. The Getaway grid, a project I was assigned this week, is essentially
an organized visual, comparing dive operations from the same location. It tells the
reader the shops' instructional capabilities, accommodations, special services and
other pertinent, at-a-glance information. However, for me, this seemingly simple
project required long looks, which, after all week of picking at the project, gave me a
long face.
Fonts. In order to work on the Getaway grid I needed to use Adobe InCopy, the
current word-processing software — integrated with Adobe InDesign — that is
predominantly used by magazine and newspaper editors. In order to input the
information into the predesigned grid, I needed to follow the grid's format, which
included inputting the information utilizing the correct fonts. My computer wasn't
loaded with them. In this case, function followed form, so until I had those fonts, I
was stuck. The first red light.
Form. Even after I got the fonts, the program refused to cooperate. When I would
attempt to change the view of the grid, I saw that little revolving rainbow. When it
comes to technology, I certainly do not have the Midas touch, and let me tell you—a
pot of gold was not waiting for me at the end of that rainbow. InCopy crashed. Turns
out, the Getaway template I was using was corrupt, so Sport Diver's art director,
Elizabeth, had to restore a different template. The second red light.
Feedback. Fact is, facts are crucial. You can't let the details escape you in Getaways.
That meant if I was uncertain about one of the shops' services, I needed to verify
with them. Which meant playing communication tag. Although a fun game for spry
youngsters, it felt much to me like just running in circles. Waiting for the emails to
come back became the third red light.
Here's the final product, which will be published in Sport Diver's October issue: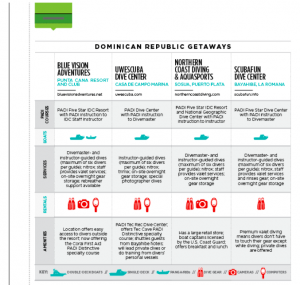 My experience with Getaway grids was a small-scale version of some of the overarching themes I saw this week.
Function follows form. Structure is important to the success of a magazine. Each individual in the Bonnier Dive Group has an important contributing role to the finished project. When roles shift and the equilibrium is disturbed, it's much harder to get with the program.
Feedback. Communication is crucial. There is much meat to meetings. Inter-departmental dialogue and coordination with colleagues is the key to changing those red lights to green.