By Sarah Barchus
Dive No.: Week 6 (Four dives, plus one!)
Location: End of the Road; Devil's Den
Time In: 9 am
Time Out: 5 pm
Bottom time: About 32 hours
Depth: At the stop (But I don't know about safety)
Starting Air Pressure: Savoring the last sips
Ending Air Pressure: Heavy sighs
Exposure Protection:
˙ Gearing up to go
˙ Fins — I can't believe I'm finished
Weight: The finality of it
Temperature:
Air: Weird to be quitting cold turkey
On the surface: Flushed with feeling
Bottom line: I leave with warm memories
Conditions:
˙ Fresh water (I did make the acquaintance of a tall glass of water)
˙ Salt water (Typical of farewells)
˙ Shore ("Ashored" that this is something I could see myself doing)
˙ Boat (Moving on to other adventures that float my boat)
˙ Waves (Time to say goodbye)
Visibility:  Looking forward with a few forlorn glances back
Comments:
This week has been like a pair of bookends, filled with meetings and partings.
Some of the meetings came in the form of interviews. I was able to speak with someone from Save the Manatee about how divers can responsibly interact with the mammals. The short article I wrote from his information will be used as part of a large animal encounter feature in a future issue of Sport Diver. I also had the pleasure of hearing the first-hand recounting of how the Kirpachs found a WWII airplane wreck. Theirs would be the last story I would tell as an intern for the Bonnier Dive Group.
Meetings also came as introductions. Sport Diver's editor-in-chief David Espinosa was in town for the week. It was nice to put a face to the detached voice I often heard on speakerphone at previous meetings. Additionally, Jeff Hester, the 2013 Rolex Scholar visited Bonnier for two days. Hearing about his travels made me even more eager to begin my own.
On Tuesday Jeff, Patricia and I met Rowena, an employee at Devil's Den where we went on a dive trip.  Walking into the vacant office I wondered if we would encounter anyone at all. After a fashion Patricia knocked on the right door and Rowena emerged. After the fact, we noticed their unique twist on a bell (see below).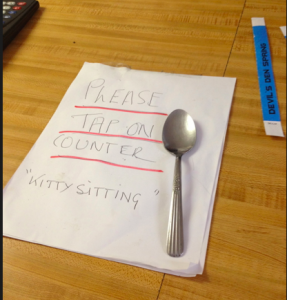 Devil's Den was a bit of an ethereal experience. To enter the den you have to cart your gear down a set of steps, first stone and then wood, descending to a platform in the middle of the spring pool. Shaped like a bowl, the den had a small opening at the top from which sunlight spilled and plants dangled their leafy limbs. The underwater topography resembled an upturned stalk-less mushroom, the "gills" craggy swim-throughs. Being entombed in the twinkling twilight gave me shivers of excitement, but when the temperature decided to give me shivers of its own, I made my exit. Back to the world above and work the next day.
And, as always, meetings held to their true form as meetings. Wednesday contained a particularly crucial one: the 2014 planning. Put four members of the Dive Team, one intern, one scholar, and a bag of bagels in a modest conference room with a whiteboard for eight hours and what do you get? Sport Diver's entire framework for the future. Not bad, I'd say. We decided when, where, and what to use for the various sections of the magazine and who would cover them. What was my greatest contribution besides practicing my spelling skills (or lack thereof) and penmanship on the whiteboard while taking extensive notes? Narwhals. Yep. Yours truly came up with the last big creature to be featured in upcoming months. Naturally, I was pretty proud of my accomplishment.
The last round of meetings happened on the day of my departure from Bonnier. I made the acquaintance of two new interns from University of Central Florida. It was a bit bizarre to be at the end of my internship watching the beginnings of theirs take place. Six weeks ago I was shaking all the hands they were now. It was neat to talk with them and impart information about the internship to them. After our chats I realized just how much I have learned.
Then the partings. David left to go home. Jeff was on to his next adventure in the Bahamas. And I am returning to Wisconsin. But I can let go of what I must leave behind because of all that I get to take with me.