I have always preferred warm weather over cold, salt water over fresh, and diving over just about everything else. So I could barely contain my excitement as I headed from Central Illinois to Key Largo for the summer. After just a few weeks of interning with Reef Environmental Education Foundation, I felt I had found my niche. It's not just the location, weather, and diving that suit me, but also the passionate people I have met and the valuable work I have been doing.
My fellow REEF interns Alex, Alexis, and Catie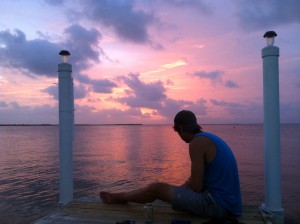 My weeks are split between the field and the office. While the field definitely creates more excitement, the office work is just as important. I have been dedicating large amounts of my time in the office prepping for REEF Fest! REEF fest is our 20th Anniversary Celebration held August 8th-11th filled with diving, free seminars, and nightly social events that will attract divers from across the country. I am so proud to be a part of such an exciting time in REEF history, and with this on top of the lionfish derby series, things do not get boring around the office.
Days in the field are just as productive, but in a very different way. As a REEF intern we have the amazing opportunity of diving with local dive shops at no cost, in order to conduct fish surveys and teach as many divers as possible about REEF. When I head out on a boat for the day, I find myself surrounded by others who are passionate about the underwater world and interested in the knowledge I can share with them. I gladly point out some common species from my underwater fish ID booklet, and love to discuss all of the fish sighted after the dive. It quickly becomes a game, as people describe the fish they saw and I try to ID it from memory or my handy ID book. Many divers on the boat may have never heard of REEF before, so each day out usually means a handful of new REEF members!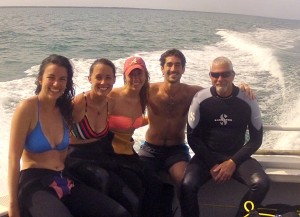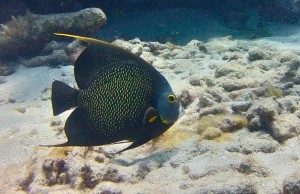 A beautiful French Angelfish 
I have also had the privilege in assisting with lionfish research! We visit different dive sights in the area, and using transects, record and measure the lionfish, grouper, and lobster found at each location. Now this may not sound too tricky, but most of these sights are only marked by a small pole in about 60ft of water. Add a strong current and poor visibility, and your day of research diving may be a loss. One site, the notorious W-8, had not been found during the previous round of surveys. The search took time, and many attempts, but W-8 was found and we couldn't have been happier…. especially because the sea got the best of us that day. Lets just say our big breakfast wasn't the best idea.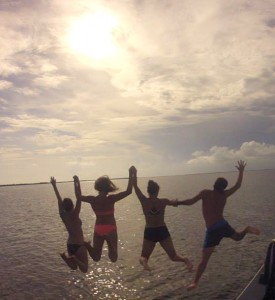 The "We Found W-8" Celebration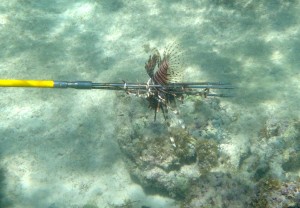 A lionfish Speared during research 
Finally, through the amazing opportunities I get with REEF, I have been able to obtain my rescue diver certification and enriched air certification. I am so glad that I can continue my dive education, and can't wait for the next step: Dive Master!