"The bends" — or decompression sickness (DCS) — can be a serious dive-related injury that results from inadequate elimination of accumulated inert gases (like nitrogen) from body tissues. The body absorbs more gas from breathing while diving than it does at the surface in attempt to equilibrize gas concentrations in tissue with the increasing ambient pressure of the surroundings. Therefore, to reverse this process and eliminate the accumulated gas, the reduction in ambient pressure must be slow and controlled. For this reason, it is recommended that divers do not exceed an ascent rate of 30 feet/9 meters per minute and they perform a safety stop to wash out as much remaining gas that was accumulated under pressure as possible. In the event of a rapid ascent, inert gases are not properly washed out from the body tissues and the person becomes "bent."
If a person is suspected to have DCS, they will be sent to the nearest medical facility to be evaluated by a physician, and then DAN will contact the nearest available hyperbaric facility for treatment.
A common misconception about hyperbaric treatment of DCS is that it causes bubbled nitrogen in the body to re-dissolve back into the blood. The real benefit to hyperbaric treatment is that the act of breathing oxygen at increased pressure and concentration creates a pressure gradient. This gradient allows for more effective removal of other gases in the body (like nitrogen) through exhalation and addresses the inflammatory response to aid in healing as well. Hyperbaric medicine is not just for scuba divers, because the benefits of high concentrations of oxygen can be used to treat serious infections and heal wounds resulting from diabetes or radiation treatment, as well as treat other indicated conditions.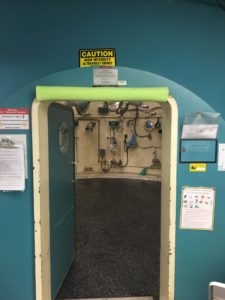 Duke's hyperbaric medical facility has an interconnected multi-place chamber system, and recently the other DAN interns and I received a tour of the facility from Eric Schinazi, a hyperbaric chamber specialist at Duke. He shared with us the history of the chambers, how they were built, how they're controlled, and how air is compressed.
While we were touring the chamber, there was a research project being conducted on oxygen toxicity. We got to peek into the research chamber to see how the research subject was preparing to exercise while breathing compressed gas in the chamber.
A big thanks to Eric for such a wonderful tour! I hope to stay out of hyperbaric chambers during my diving career, but it was a great experience to learn what hyperbaric treatment involves.
Cylinders:
Speaking of compressed gas, last week DAN employees and interns also had the opportunity to visit the Luxfer aluminum cylinder manufacturer where we learned how the cylinders are made and tested — it was like an episode of "How It's Made"!
Cylinders are created from one piece of metal and formed into their shape through heating and pressure manipulations. Pictures were not allowed in the factory, so to get an idea of what the process looked like, you can check out this YouTube video of steel cylinders being created. It is generally the same process, except for minor differences between steel and aluminum cylinder production and details unique to each processing factory.
While at the facility, we also had the opportunity to take a visual cylinder inspection course from Mark Gresham, CEO of PSI-PCI (Professional Scuba/Cylinder Inspectors).
All cylinders need to have a visual inspection at least once per year (and hydrostatic testing every 5 years), but visual inspections should be done more often if there is reason to believe the cylinder may have sustained damage. This could be from dropping a cylinder, running the cylinder dry (because this greatly increases the risk of water getting into the cylinder), heat exposure, or after it's been stored for a long period of time. In the event of an explosion, cylinders are designed to split down the middle (photo to the left) to avoid fragmenting and shrapnel.
Mark also was very generous to meet with us at DAN earlier this week to continue educating us on Oxygen cleaning and cylinder valve inspection. I took my first valve apart, and then put it back together! Let's hope it still works!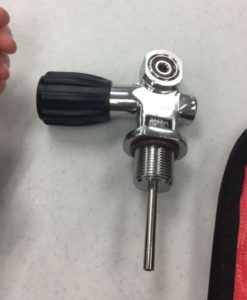 A special thanks to Mark for his generous time and for sharing loads of knowledge with us.
I am very thankful to this opportunity from OWUSS and DAN to gain so much exposure to all the different fields that play a role in making diving functional and safe, as well as the opportunity to learn from people at the top of their fields.
This week underwater: